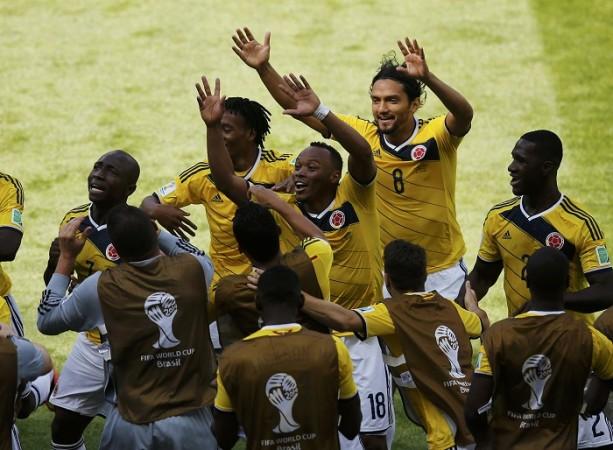 There was no "thou shall not pass" mentality from Greece, but there was that goal-shy problem which has hurt them many a time in the past, with the latter issue leading to a disappointing loss in their opening FIFA World Cup 2014 encounter against Colombia in Belo Horizonte on Saturday.
Colombia, without their talisman Falcao, put in an assured and professional performance in front of a seal of yellow that applauded every touch, with goals from Pablo Armero, Teofilo Gutierrez and James Rodriguez giving the South American side a comfortable enough 3-0 win over cannot-score-a-goal-even-without-a-goalie Greece in Group C.
Greece, to their credit, put in a decent attacking performance, but try as they might they could not find the target, despite quite a few presentable chances, with Colombia, on the other hand, always looking comfortable in front of goal, and showing they just might make an impression after all without Falcao.
The first half began with Colombia pouring forward from the first touch, and they were duly rewarded on just six minutes. A long ball over the top found Juan Cuadrado on the right. The Fiorentina winger, who has been linked with a summer move to Arsenal, brought out his usual bag of tricks, jinking his way past his defender before crossing into the box.
James Rodriguez, with the ball a tad behind him, played a clever dummy, catching Greece's defence out and allowing Armero, in plenty of space, to force in a deflected shot off Konastantinos Manolas into the net.
That earl goal woke Greece up, and the rest of the half was all about Greece actually pouring forward and looking to break through Colombia's defensive ranks.
Panagiotis Kone nearly made it 1-1 right after Colombia's goal, firing a shot just wide of the target off a cross from Giorgios Samaras. Kone was the best player on the pitch for Greece, especially in the first 45, constantly looking dangerous from midfield, with the Bologna man coming dreadfully close right on the stroke of halftime as well.
Some good work from Dimitrios Salpingidis and Theofanis Gekas, preferred to Kostas Mitroglou, saw the ball come to Kone at the edge of the box. The midfielder did not need a second invitation to shoot, with his strike brilliantly kept out by a diving David Ospina.
In between those chances, Greece came close on a couple more occasions, but that striking instinct just kept evading them. Colombia, at the other end, were happy to soak in the pressure and use their pace to good effect on the counter, with Rodriguez and Cuadrado sending those heart beats of the Greek fans racing a few times.
Greece looked to crank the pressure up a little more in the second half, but it was Colombia who got the second goal, with Gutierrez, preferred to Jackson Martinez up front, and the man given the job of leading the line in the absence of Falcao, making it 2-0 on 58 minutes.
A corner from the Colombia right was nicely flicked on by Abel Aguilar, who got in just ahead of Samaras, at the front post, with Gutierrez given a simple tap-in from two yards out.
The Greeks needed a quick reply to make a game of it, and they almost got it via Gekas, who somehow struck the crossbar with his head with the entire goal gaping at him waiting to be found.
Mitroglou was brought in by coach Fernando Santos, and the Fulham striker did provide a little more directness to Greece's attack, but the goal, that always seem to elude Greece in the World Cup, just would not come.
Colombia always looked like grabbing another goal on the counter with Rodriguez, in particular, using his pace to good effect. The Monaco playmaker was duly rewarded with a goal in stoppage time, with Rodriguez coolly slotting in with his left foot from 14 yards, after some good work from Cuadrado.