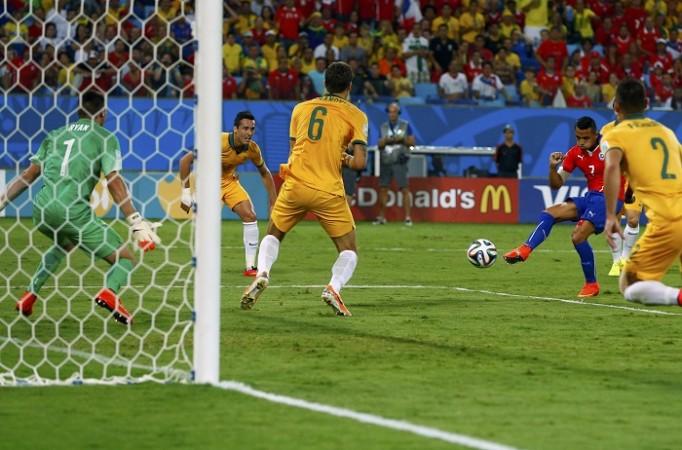 The second Group B game of the FIFA World Cup 2014 was not quite as fantastic as the first, but Chile and Australia put on a rather wonderful show of their own, proving firmly that this tricky group would not be Netherlands and Spain's to boss.
Two early goals from Alexis Sanchez and Jorge Valdivia in the space of two minutes, and with less than 15 minutes gone on the clock, gave Chile an early 2-0 lead in Cuiaba, an advantage they would not relinquish despite Australia's best efforts.
To the Socceroos' credit, everyone's pick to be the whipping boys of Group B, they picked themselves up splendidly after the early onslaught, cutting the deficit in the 35th minute through the evergreen Tim Cahill, before giving Chile a right old scare with perseverance, quality and a will to not give up.
Ange Postecoglou could not have asked for a more fighting performance from his Australia side, but the worry will be that such a good show was not enough, as Chile ran away 3-1 winners with Jean Beausejour adding the third late in the game to become the first Chilean to score in two World Cups.
"We started well and put Australia under a lot of pressure," Chile coach Jorge Sampaoli said. "We had a good understanding in attack, especially with Alexis Sanchez as the focal point, and we created several chances.
"After Australia scored we lost a little bit of momentum and we got frustrated. At the end of the match, the players were happy but determined to do better in the next game. We were not at our best. We didn't play as well as we can – and with the calibre of our next two opponents, we will have to give a more complete performance."
The next game for Chile, who got 60 minutes from Arturo Vidal, is against Spain, who were thumped by Holland in the opening game of the group, at the iconic Maracana, while Australia will face a resurgent Dutch. The Aussies will need to start their game against the Netherlands a lot better; because if they allow Arjen Robben, Robin Van Persie and Wesley Sneijder to run riot from the off, then they could be in for a hiding.
"At the start, we showed a bit of fear, and then when we stepped up and started getting in their faces and rolling them a little bit," Cahill told ITV. "When they showed a bit of aggression, we have to show it back. We did that.
"We will learn from this and we will go into the next game very positive. We believe in our football, we believe in our structure."