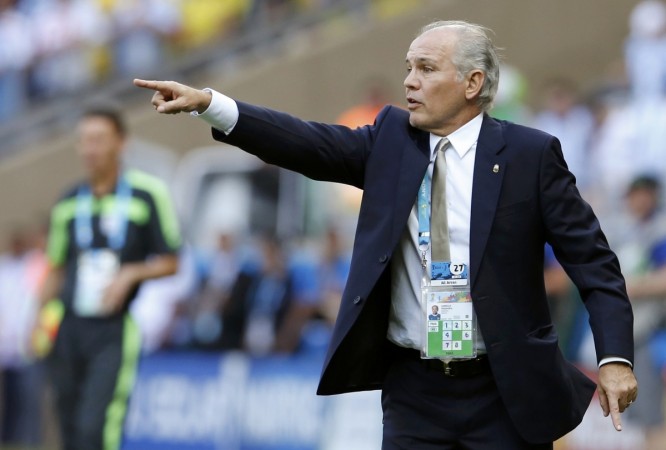 Argentina head coach Alejandro Sabella wants his side to push on further, though he insists the La Albiceleste have proved their worth by beating Belgium and reaching the semifinals of the World Cup for the first time since 1990.
Gonzalo Higuain's early strike proved to be enough as Belgium were unable to claw their way back into the game despite throwing the kitchen sink at the Argentinean defence towards the end of the game.
And Sabella feels that Argentina have finally lived up to their expectations.
"After 24 years, this is a good tribute to this squad - they will go down in history as one of the best four teams in the world and we will see if they can go one step more," Sabella told reporters after the match.
The 59-year-old boss went on to praise Lionel Messi for his contribution in the midfield.
"I felt he played a wonderful match. It's not only scoring goals, it's having possession, taking out three opponents and every move he makes is a sign of hope for us and endangers our opponents," he added.
"That a player like Messi almost never loses the ball is water in the desert - he gives us that water in the desert. Today, when the terrain was dry he gave us that breath of fresh air every time he had the ball."
Meanwhile, Belgium coach Marc Wilmots criticized Argentina's use of negative tactics during the game.
"We were not impressed by the Argentinians, they were just an ordinary team. They can distort the rhythm, they take 30 seconds to take a throw-in and the referee doesn't do anything," Wilmots told reporters.
"They had the goal, and Messi was one-on-one with (Thibaut) Courtois at the end, but how many shots have they had? If I played that way, I would have been destroyed by the Belgium press."
Wilmots also felt the referee was biased towards Messi.
"Every time something happens with Messi, the referee gives him a free-kick. I notice he made three fouls and no yellow card, we made one foul and one yellow card," he added.
Despite the loss, Wilmots insists he is proud of his side's performance in the 2014 World Cup.
"I'm very proud of the boys, I have told them 'you guys are the youngest of all the last-eight teams. There was a great deal of emotion, some of my staff were crying in the dressing room, because there is so much passion."