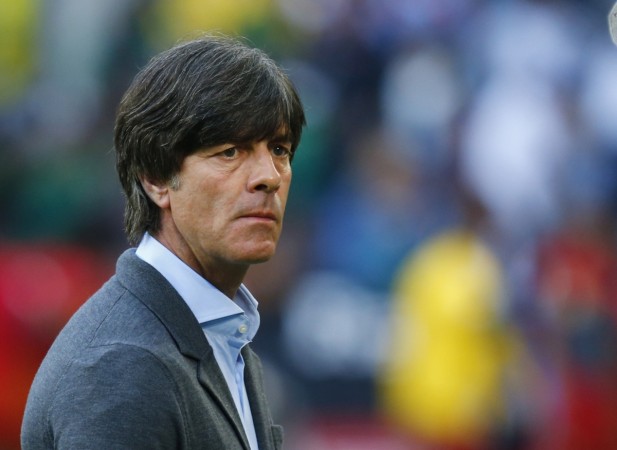 Germany boss Joachim Low lauded his side's never-say-die attitude, after they came from behind to post a 2-2 draw against Ghana in their second Group G fixture of the 2014 World Cup.
Despite taking an early second-half lead through Mario Gotze, the Germans found themselves in some trouble after strikes from Andre Ayew and Asamoah Gyan put Ghana in front.
However, a 71st minute strike from veteran Miroslav Klose, who equalled Brazil legend Ronaldo's record of 15 World Cup goals, helped Germany salvage a point from the match.
And Low, who admitted Ghana were at the top of their game in the match, feels his players did very well to make a comeback.
"Ghana did a good job. They succeeded in closing down space, we weren't able to get the open spaces," Low pointed out.
"It was an incredible high pace and the players gave everything. We wanted to avoid a hard fight with these temperatures. The team showed a strong morale to come back after we were down."
Meanwhile, Ghana coach Kwesi Appiah stated that he is proud of his side's performance against Germany, despite not being able to hold on to their lead.
"It was a great game. Germany are a big team but I think our boys did well. We created a lot of chances that could have made the day but, unfortunately, we could not utilise our chances," Appiah told Sky Sports News.
"We needed time to fight to the end. It's a bit unfortunate that it ended this way but I think on the whole it was a very good game."
Striker Gyan, who scored Ghana's second goal, agreed with Appiah, saying they did very well to draw against a strong German side, who thrashed Portugal 4-0 in their opening game.
"We believed in ourselves, even against a top side like Germany. We had to just respect them and fight them to the end of the game. We came close when we got it to 2-1. It was a great game. We gave ourselves a couple of chances. It was great work. Tactically, we were perfect today. They are good in possession, we know we don't need to waste our energy," Gyan said.