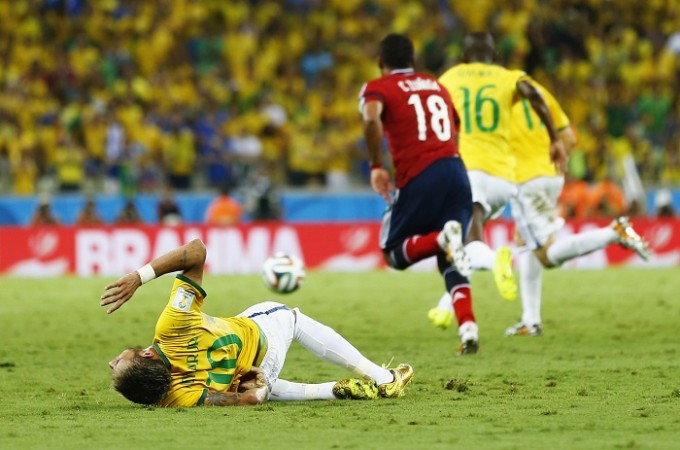 If the last 16 was tense and tight, with the feeling of "what on earth is going to happen now, can my team win" pervading through, the quarterfinals were no different with all eight teams making it an as-close-as-it-gets quartet of matches at this 2014 FIFA World Cup in Brazil.
Brazil and their all-South American clash with Colombia was the cynosure, with an entire nation, and their legions of fans across the world, none more so than India, holding their breath until the 90 minutes (not literally, of course), hoping to see their team seal a passage through to the semifinals, which they duly did along with the Netherlands, Germany and Argentina.
Goals, which has been evident in plenty at this wonderful World Cup, though, were very much missing with only five scored in the four quarterfinal matches. While the ball did not hit the back of the net as much as everyone would have liked, the four games were still engrossing and fascinating.
Here is a quick look at what transpired and the full results and goalscorers of the last eight matches.
France vs Germany: A far from "I want to tape that and watch it every weekend" encounter, with an early Mats Hummels header proving to be enough for the Germans to see off their European rivals. France were never expected to compete for the World Cup title, and despite expectations increasing after their impressive performances in the group stages, this young side's inexperience and lack of big match nous came to the fore, with Germany showing that calmness and "we have another gear if we need to use it" feeling to move into the next round.
Final Result: France 0-1 Germany (Mats Hummels 13').
Brazil vs Colombia: Many predicted the hosts to trip up against their South American counterparts, considering the form of Colombia heading into this quarterfinal and the unimpressive performances from Brazil. However, Brazil were the ones to jump off the blocks quickly, scoring an early goal via skipper Thiago Silva, before David Luiz's thunderbolt from distance gave them an extra cushion, a cushion they would need with James Rodriguez, yet again, finding the net.
The 2-1 win sent Brazil and their fans one step closer to the ultimate dream, but that dream will now need to be realised without their talisman Neymar, who suffered the most cruellest of blows in the final moments of the game. The forward fractured his back after feeling the brunt of a knee from Colombia defender Juan Zuniga, leaving Brazil to win their next two matches without their best player.
Final Result: Brazil (Thiago Silva 7', David Luiz 69') 2-1 Colombia (James Rodriguez 80' pen).
Argentina vs Belgium: Another game which was won by the odd goal, with Argentina putting in another attritional, fighting performance to see off the Belgians. Gonzalo Higuain finally found his goalscoring boots in this World Cup, much to Argentina's relief, with Belgium just failing to discover their attacking groove throughout the 90 minutes.
Belgium have been able to skirt elimination and danger with their superior bench strength helping them score late goals, but that task proved to be one too difficult in the end as Argentina's wider experience on the grand stage proved to be the difference.
Final Result: Argentina (Gonzalo Higuain 8') 1-0 Belgium.
Netherlands vs Costa Rica: While all the other three matches were close contests with a goal here or there making the difference, this match was all about Costa Rica showing their fighting spirt and defensive doggedness to keep a Dutch side, which threw everything, including the kitchen sink at their opponents, at bay.
For 120 minutes, Costa Rica did just that, before a brilliant decision from Louis Van Gaal turned the game Holland's way as the Europeans sneaked through on penalties for the first time ever in their World Cup history.
Final Result: Netherlands 0-0 Costa Rica (Netherlands win on penalties 4-3).