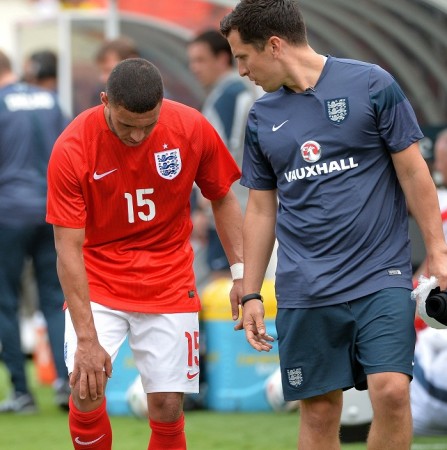 England head coach Roy Hodgson is confident that Arsenal midfielder Alex Oxlade-Chamberlain will be fit to participate in the World Cup.
The 20-year-old was considered a big doubt for the tournament, after damaging his knee ligaments during England's 2-2 draw with Ecuador in the pre-World Cup friendly on Wednesday. Although the injury was a serious one, Hodgson has now confirmed that the former Southampton midfielder would be heading to Brazil with the rest of the squad.
"It's time for the real thing now. Everyone is fit. Oxlade-Chamberlain is making good progress. I think he'll make the tournament without a shadow of a doubt," the former Liverpool boss told ITV, following England's stalemate against Ecuador.
Meanwhile, England were held to a 0-0 draw by Honduras in Miami in their final friendly on Saturday.
The Three Lions were unable to find a breakthrough despite Honduras being reduced to 10 men after defender Brayan Beckeles was shown a second yellow card just after the hour-mark, for fouling England left-back Leighton Baines.
And despite England - mainly Liverpool striker Daniel Sturridge - getting several chances to score and win the game, they were unable to convert them.
The match, which suffered a 40-minute delay midway through the first half due to thunder and lightning, was very physical, with Ecuador bringing down Hodgson's men several times.
Hodgson admitted he was frustrated by England's inability to convert their chances but also stated that he is happy about the fact that his players did not sustain any injuries.
"Honduras were quite physical and it was one of the most frustrating games I have been involved in for a long time. I thought the tempo of our play and effort to score in the second half was commendable. I will take the draw and take the fact we got away without any injuries. We go to Brazil in the right frame of mind," Hodgson pointed out.
England and Liverpool skipper Steven Gerrard also echoed Hodgson's thoughts, saying he was relieved that the Three Lions avoided injuries.
"There were some horrific tackles a week before the World Cup. But we have got another 90 minutes under our belts in hot conditions. We could have done better but there's a week to go and we will be ready," Gerrard stressed.