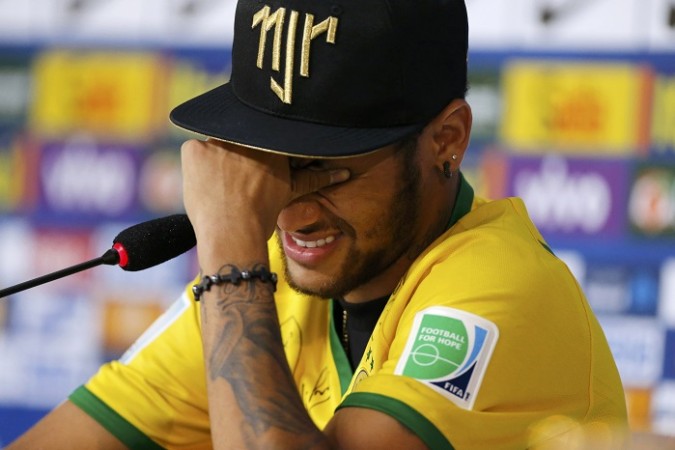 Ahead of their third-place playoff against the Netherlands on Saturday, Brazil were in for a pleasant surprise when talisman Neymar paid them a visit during their practice session in Teresopolis.
Neymar, who was a victim of a terrible challenge from Colombian defender Juan Zuniga which resulted in him suffering a serious back injury, was forced to miss the semifinal on Tuesday against Germany, which the home side lost by a ghastly score of 7-1.
He looked quite comfortable in walking up on his own towards his teammates, who he shall watch from the stands on Saturday in Brasilia.
There was apparent disappointment on the face of the Brazilian top goalscorer when he first met his teammates and coach Scolari, and then, while addressing a press conference, he admitted to being puzzled by what Zuniga's real intentions on the fateful day were.
"I won't say he came to injure me, I don't know what was going on in his head but everyone who understands football can see that it wasn't a normal challenge.
"When you want to foul someone to stop a game or stop a counter-attack, you kick their ankles, you push, you pull, but the way the ball was falling, it wasn't a normal game situation.
"Many of you say I am a diver and I don't care that you say that. I can defend myself when I can see what's going on around me."
He further added: "But I can't defend myself from what comes from behind. What defends me in that situation is the rules and I couldn't defend myself from that and I was injured."
Neymar, who plays for Spanish side Barcelona, is said to have been visited by his La Liga team's medical staff so that they could assess his injury properly and hopefully get him ready for action for the start of the club season in late August.
Neymar also admitted he was extremely lucky to survive the challenge. "God blessed me. If it had been another two centimeters I could be in a wheelchair today," he added while finding it hard to hold back his tears. Thousands of fans worldwide offered him condolences and prayers which seems to have lifted his spirits.
He admitted to having been called by Zuniga, who apologised, but he chose to be indifferent and maintained that he holds no grudge against the Colombian defender but is still not quite ready to forgive and forget.