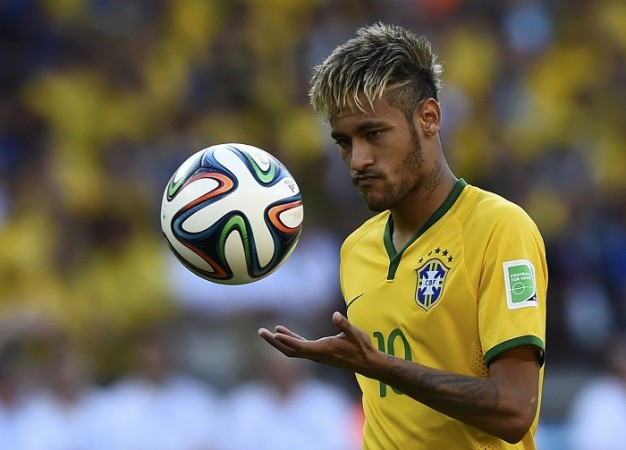 Brazil striker Neymar assured his fans that he is fine and will be playing in the quarter-final clash against Colombia on Friday.
The 22-year-old striker, who scored the winning penalty for Brazil in the round-of-16 clash against Chile, had picked up some knocks in his knee and thigh during the game.
Despite the Brazil fans fearing Neymar would be missing the game against Colombia, the Barcelona striker has assured them that he will be playing in the quarter-final clash in Fortaleza.
"I am able to play against Colombia. I have no pain. I feel very well-trained and rest assured, I'm fine," Neymar told reporters at Brazil training base in Teresopolis.
Meanwhile, Brazil head coach Luiz Felipe Scolari had to bring in a psychologist after several players broke down in tears, following the Selecao's narrow win over Chile in the penalty shootouts.
But now, Neymar claims that everyone is fine and there is no "emotional problem" in the squad.
"The game against Chile was exciting for everyone. But the team does not have any emotional problem in the group," added Neymar.
Despite being under a lot of pressure to do well in the 2014 World Cup in his home soil, Neymar, who is one of the contenders for the Golden Boot, having scored four goals so far, said he isn't burdened by expectations.
"I do not feel burdened with the obligation to be the highlight. I have colleagues who help me. Some win the ball, others give passes, others score goals. We are a team. It's not about one player. Here the important thing is that Brazil is champion," he explained.
The Barcelona striker said he would be satisfied with a low-scoring game as long as Brazil beats Colombia and progresses to the next stage of the 2014 World Cup.
"You can't always enjoy yourself and win 4-0 or 5-0. Football, nowadays, is so difficult, so even, that the team who is most committed on the pitch ends up winning," he added.
"I don't want a show. That's the last thing we are trying to do. We are not necessarily here to produce a spectacle. We are here to run to the end, until we are tired, and come out as winners. I would be happy to do nothing in this game, if Brazil won 1-0. That would be marvellous."