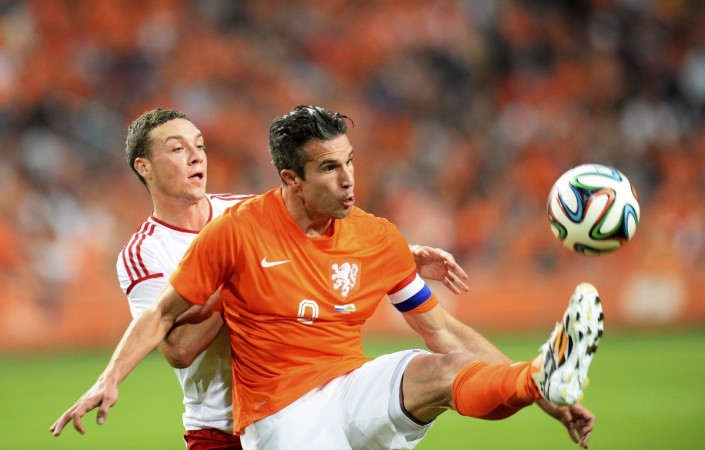 Manchester United striker Robin van Persie is reportedly a big doubt for the World Cup after picking up a groin injury during Netherlands' final friendly against Wales in Amsterdam, a game which the Dutch won 2-0.
Holland head coach Louis van Gaal says that the extent of the injury can only be determined after the 30-year-old striker, who was forced off the pitch in the first half, visits a doctor.
"He has to wait until the doctor sees him. It was better that you don't risk a bigger injury by playing him in the second half as it was not the most important match. It looks like a slight injury but it is not for nothing that you go off," said van Gaal.
Asked if the former Arsenal striker, who was still not a 100 percent fit after sustaining a knee injury towards the end of last season, would be featuring in Netherlands' first World Cup fixture against Spain, van Gaal said, "I hope so. I think it is so. We made the right decision to take him off as you don't have to risk it. His action for the assist for the first goal was fantastic."
However van Persie played down the injury scare, saying he came off the pitch just to ensure no majot damage was done.
"I came off as a precaution. It built up during the game, so we decided it was sensible to come off," said van Persie.
Meanwhile, Real Madrid star Cristiano Ronaldo's training injury was reportedly caused by an influential Ghanaian witch doctor.
Ronaldo is reportedly a big doubt for the 2014 World Cup after sustaining tendinitis in the region around his left kneecap during training.
And Nana Kwaku Bonsam claims it is he who put the injury on Ronaldo, according to the Metro.
"I know what Cristiano Ronaldo's injury is about, I'm working on him. I am very serious about it. Last week, I went around looking for four dogs and I got them to be used in manufacturing a special spirit called Kahwiri Kapam," said Bonsam.
Bonsam says he put the injury on the 29-year-old Portuguese to prevent him from playing against Ghana.
"I said it four months ago I will work on Cristiano Ronaldo seriously and rule him out of the World Cup or at least prevent him from playing against Ghana. This injury can never be cured by any medic, they can never see what is causing the injury because it is spiritual," he added.