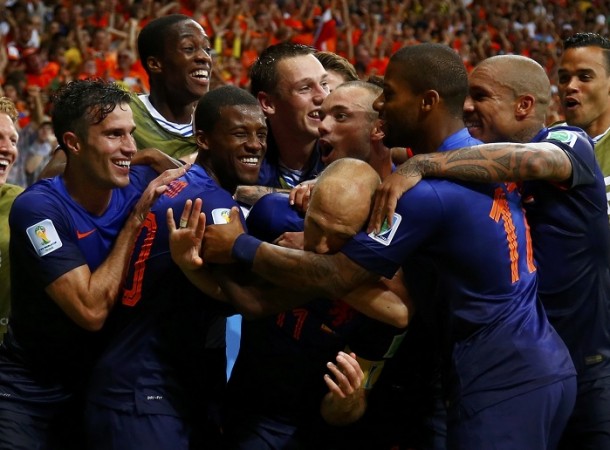 Netherlands were expected to be Spain's poorer European cousin for the second straight World Cup heading into this massive opening Group B game in Salvador. However, what transpired was one of the most amazing World Cup games, with Holland, so tetchy and physical in that ill-fated final in 2010, showing that unbelievable skill, verve and panache which has defined them since the total football years, to flatten Spain, and then some.
Spain will be still wondering what hit them, and will feel a headache much worse than a hangover coming on when they get up the next day; because in the 90 minutes of football on Friday, the defending champions were put to the sword by an inspired Dutch side in the most lethal fashion.
"I feel terrible but brave enough to take this defeat on the chin without getting depressed about it," said Spain coach Vicente Del Bosque, who looked like a man being shocked with a little more cranked up voltage every time a goal went in, and there were five of those. "I can't explain why we let in five goals.
"We're not noted as being a defensive side, but we've always been resolute at the back. In the first half they pressurised us but we still managed to find some space. The game turned on a couple of long balls they played in behind us.
"We lost because the whole team underperformed. Even though I'm not going to compare this defeat to the one we suffered to Switzerland four years ago, we have the experience and it's still just the three points that we've dropped. We need to look forward with the strength of an athlete who wants to overcome the next challenge."
Spain might have suffered a setback in the 2010 World Cup in South Africa, going down 1-0 to Switzerland, before bouncing back in admirable style to go all the way and lift their first world title. But the manner of this defeat will jar them much more, and more importantly, give the other two teams in Group B – Chile and Australia – a lot of hope that they can beat the world and European champions.
The Netherlands, on the other hand, made a statement, and boy what a statement it was. Holland proved they can be resolute at the back, while carrying some insane threat going forward. If Robin Van Persie, Arjen Robben and Wesley Sneijder play like they did against Spain throughout the tournament, then the Netherlands just might end the agonising wait for their first World Cup title.
"It's amazing," said Van Persie, who scored a goal of the tournament contender to make it 1-1 just before halftime, the goal that pretty much turned the game in Holland's favour. "This is a dream come true for us and that's why we need to enjoy the moment.
"I think my equaliser came at just the right time and when Robben made it 2-1, it gave us a huge lift and hurt them badly. The key was to keep the pressure on till the very end, which we were able to do because we're in great shape."