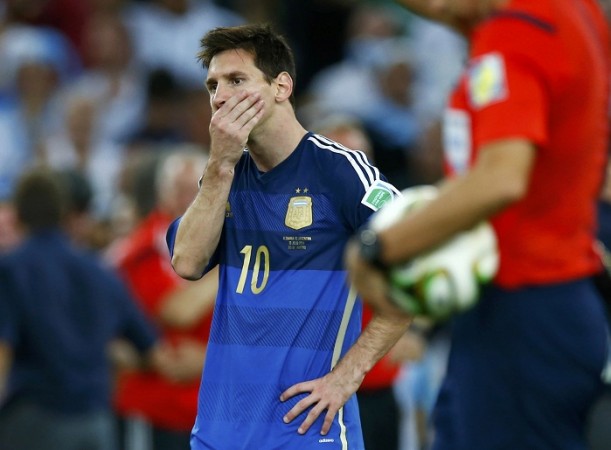 Argentina legend Diego Maradona does not feel that Lionel Messi deserved to win the 2014 World Cup Golden Ball award.
Although the Argentina captain was a key player for his side in the group games, scoring some important goals against Bosnia-Herzegovina, Iran and Nigeria, he was not very impressive in the knockout stages, where the La Albiceleste heavily relied on their defenders rather than their attackers.
And Maradona, who was earlier confident that Messi would score two goals and Argentina would beat Germany and win the 2014 World Cup, now admits that the Barcelona striker did not deserve to win the best player award.
"I would give heaven and earth to Leo, but when marketing people want him to win something he didn't (deserve to) win, it is unfair," Maradona said. "I could see that he didn't want to go up and collect it (the award)."
FIFA president Blatter, who handed the Golden Ball award to Messi on Sunday, also agrees with Maradona as he feels that there were many other players who deserved to win that award.
"I was myself a little bit surprised when I saw Messi coming up to collect the best player of the competition," said Blatter."If you compare the beginning of the tournament and why finally the Argentina team got into the final, they were decisive and I think it was a decision (based on that)."
Messi, who scored four goals in the competition, himself stated that he wasn't interested in receiving the personal accolade after seeing his team succumb to a heart breaking 1-0 defeat to Germany in the final of the competition.
"In these moments, the prize doesn't interest me at all. We wanted to take home the trophy and enjoy it with all the people in Argentina. It's very painful to lose in the manner that we did because we were so close to penalties," said Messi.
"Right now, nothing can console me – not the award or anything else. Our only goal was to take home the World Cup and enjoy our victory with everyone in Argentina. We deserved a bit more after the game we played, and it was very painful to lose that way," he added.