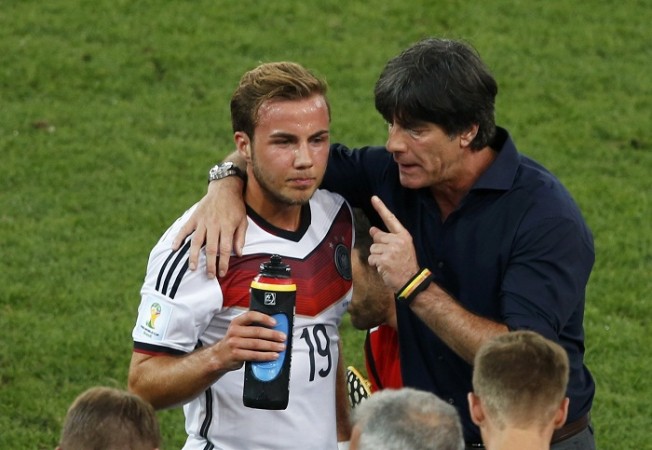 Germany coach Joachim Low has stated that Mario Gotze is better than Argentina skipper Lionel Messi, after he scored the extra-time winner in the World Cup final on Sunday.
Low insisted that he had good feeling while sending Gotze on as the Bayern Munich player is capable of playing at different positions. The match was billed as Messi's golden chance to emulate Diego Maradona's 1986 World Cup winning feat, but Gotze scored seven minutes before time to clinch the title for Germany.
"I told Gotze to show the world that you are better than Messi and that you can decide the World Cup. I had a good feeling with him," Low said. "He did that. Gotze is a miracle boy. He can play any position and has superior technical qualities. I know he is able to decide a match and he scored a great decider today."
"From the beginning, we knew that we would not have only 11 players, that we would need 14 and everyone must be in top shape during the tournament," he coach added. "This was important. You saw in the final phase and in extra time that Argentina was getting tired."
Messi walked away with the Golden Ball but that was not the trophy the Argentine captain was targeting at the start of the tournament.
Gotze, who scored the all-important goal for Germany in the 113th minute, said he somehow managed to control Andre Schurrle's cross and score the winner.
"Andre (Schurrle) put in a superb ball and I was able to control it on my chest," Goetze said after the match. "Then somehow the ball was in the net."
"Everything happened so quickly but it was great to see how much of a release it gave the team and how we still fought right until the very end," the 22-year-old added. "We thoroughly deserved to win it because we're a great side. It's an indescribable moment."
German Football Association president Wolfgang Niersbach congratulated the team for winning the fourth World Cup title and termed it a team performance, rather than a one man show.
"You can't win a World Cup with just 11 or 14 players," Niersbach said. "You need 23 players and that's precisely the mindset Germany had here in Brazil. Team spirit was the secret to our success. We didn't have one standout player like Lionel Messi, Cristiano Ronaldo or Mario Balotelli."