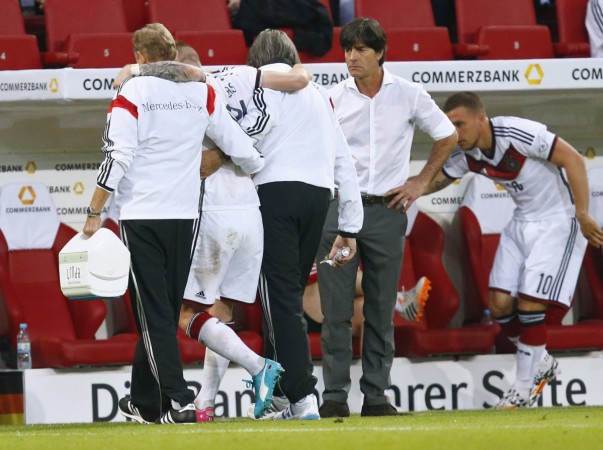 Germany head coach Joachim Low is hoping Marco Reus' injury is not too serious and he can participate in the 2014 World Cup.
The Borussia Dortmund midfielder was in tears as he was carried off the pitch shortly before halftime during Germany final pre-World Cup friendly clash against Armenia on Friday.
Reus, who had been very impressive in the first half, regularly testing the opponents defences, landed awkwardly on his left ankle after being caught in a challenge with Armenia's Artur Yedigaryan.
Although the scan results have not been revealed, there is a big possibility that Reus will be ruled out for the 2014 World Cup as the injury looked quite serious.
Still Low is hoping that Reus' will be able to participate in the 2014 World Cup.
"I do not know how bad it is. He is being examined as we speak in hospital and we will wait and see what comes out of it," the 54-year-old German told ZDF television. "A lot goes through your head at that moment and you just hope it is not too bad but then you see it swell up a bit. I hope the ligaments hold up."
However, the former VfB Stuttgart manager says Fifa rules will allow Germany to select a new player if Reus is sidelined for the World Cup.
"Until 24 hours before the first World Cup game, according to the rules, we can nominate someone else," added Low.
Aside from Reus' injury there were a lot of positives for Germany as they thumped Armenia 6-1, with Lazio striker Miroslav Klose becoming the national side's all-time leading scorer after heading in his 69th international goal.
Despite admitting his pleasure after breaking Gerd Müller's record, the former Bayern Munich striker says he is more focused on his fitness.
"Of course the record means something to me. But it is much more important for me to become fit again," the Poland-born forward, who is also looking to break former Brazil striker Ronaldo's World Cup goal tally record, told ZDF. "I didn't have the legs for the last friendly [against Cameroon]. Now they are coming back and it shows, I guess."
Germany, who will fly to Brazil on Saturday, have been drawn alongside Portugal, Ghana and the United States in Group G.