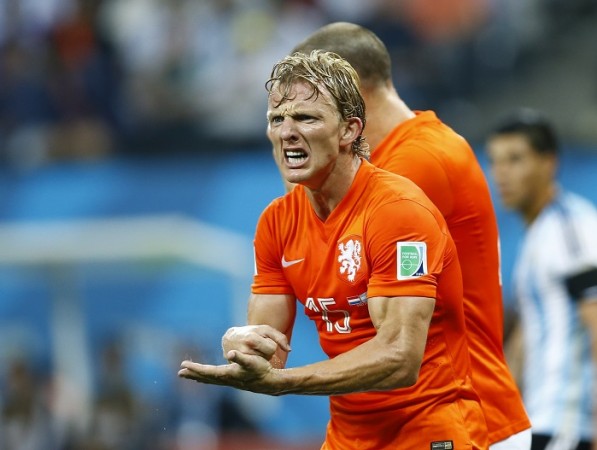 After their semifinal defeat at the hands of Argentina, the Netherlands are still reeling from missing their chance at making a second straight World Cup final, with the Dutch now set to take on Brazil in the third-place playoff in Brasilia.
Dirk Kuyt agreed with teammate Wesley Sneijder, who said after the penalty shootout defeat on Wednesday, Holland did not deserve to be knocked out by Argentina.
Netherlands' success at this World Cup has been attributed to coach Louis Van Gaal, who is all set to join Manchester United next season, and Kuyt was all praise for his manager.
"There was only one thing for this coach -- he just wanted to win this cup," Kuyt told reporters ahead of their game against hosts Brazil. "That is the type of coach he is -- he just wants to win things. He is desperate to be successful and I am sure he is going to be successful in his next job."
Kuyt also talked about the friendly atmosphere that was in play at their training camp and how everybody was just relaxed and there was no apparent pressure on them of any sort. The kind of camaraderie that prevails amongst the players and the coach was quite apparent for all to see and was further accentuated by the fact that pretty much everybody from the squad got a chance to play on the field.
"Everyone played apart from [goalkeeper] Michel Vorm, and that says a lot about this team," Kuyt said. "We are not 11 players, we are 22 players and an enormous staff of 26 people and everyone played their part in this success."
Kuyt was also not too impressed by the team that beat them in the semifinal -- Argentina. "I don't think we were impressed by them," added Kuyt. "If you watch the game defensively, our defence was playing against [Lionel] Messi, [Sergio] Aguero, [Gonzalo] Higuain and more players who are at the top of the game.
"In attack we wanted to give some harder times to them but they had two defensive lines of four."
In accordance with the general mood, Kuyt is also not too keen on playing the third-place match against Brazil, as a loss on Saturday will mean two straight defeats for this Dutch side who have impressed everyone at this World Cup.
"We did so well," Kuyt said. "We came so far that it would be a shame to go home with two losing games."