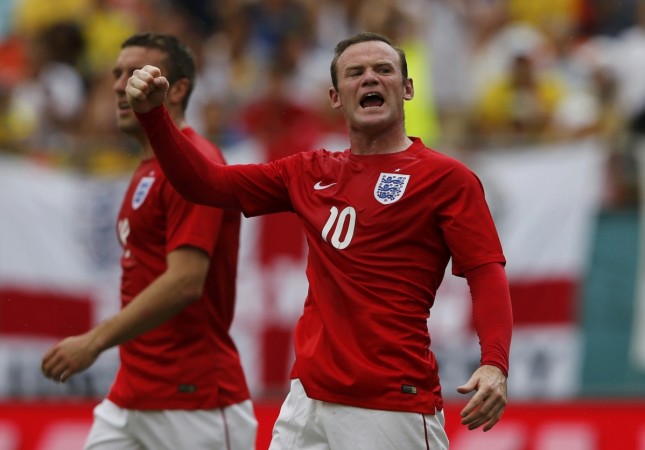 Wayne Rooney feels Italy should fear England as he believes the Three Lions' 2014 World Cup squad is the strongest he has ever been part of.
Italy had knocked out England in the quarterfinals of the 2012 European Championship on penalties. Andrea Pirlo, who played a major role in Italy's victory in that game, is still considered the Azzurri's key player, despite him being 35 years old.
Despite admitting Pirlo is a great player, Rooney claims England are not really worried about him.
"We're not really too focused on Pirlo. He has been a fantastic player and Italy have got some great players, but we also have them," the striker said.
And the Manchester United star feels it is Italy who should be worried about Engalnd.
"I think they should really be more worried about our team. I think we have [moved ahead of Italy]. The team we've got is, not just the team but the squad, is a youthful one, with a lot of energy and excitement."
The 28-year-old says he is excited to be a part of an young England squad, which - according to him - has a bright future.
"I think it is exciting. I think the younger players in the team bring a lot of energy and excitement and it is great to be a part of. I think, probably, it is the best squad of players I've been involved with since I've been with England. It is great to be a part of and I am looking forward to this tournament and the future with England - it certainly looks bright."
Rooney was recently criticised by former United player Paul Scholes, who said the striker has passed his peak and should be dropped from the squad. However, the Everton product says he is more focused on doing well on the field than answering his critics.
"I don't care what anyone says. I am ready physically, I am focused and of course there is competition for your places, there always is. You are playing for your country and I am ready for that. I am not worried. The manager has got a job to do. He picks the team and whatever side he picks I'll respect that and do my best to try and help the team."