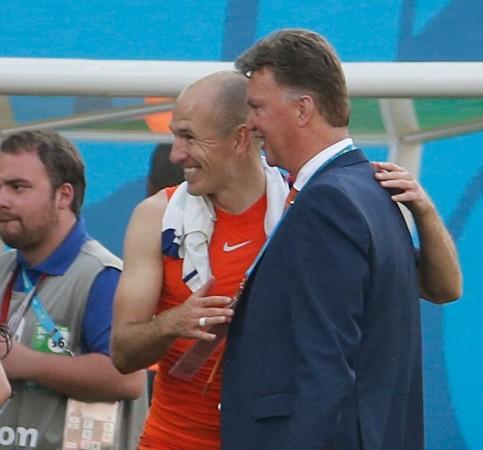 The Netherlands were not at their best against Chile on Monday in Sao Paulo, unable to find their attacking groove at will, and perhaps sitting too comfortably without the ball that they forgot about the virtues of possession.
But Holland also showed even with having just 36 percent of the ball they are good enough to beat a team of Chile's quality, and that too 2-0. That sends some serious warning signs to every team in this tournament, signs that emphasise that fact that the Dutch have very little chinks in their armour, and can defend as well as they attack.
"It was a match of the highest quality," Van Gaal said. "We limited Chile to a handful of opportunities, we neutralised them extremely effectively, and particularly in the second half we created more chances.
"We did have to change our style today, and I will always pick a system and a strategy that will help us win. However, we're not perfect, in possession we still need to improve, but I do think we're very good without the ball."
Netherlands were certainly good without possession against Chile, neutralising the much-vaunted attack of the South Americans, and leaving the likes of Alexis Sanchez and Eduardo Vargas a frustrated bunch.
The five-man defence yet again acted as a force-field thwarting all attacks from Chile, while Arjen Robben's pace and directness put the opposition's defence in a lot of trouble. Van Gaal will also take heart from the fact that his team managed to pick up a 2-0 victory over the second best team in Group B without their skipper Robin Van Persie, who missed out through suspension.
The Netherlands showed their bench strength in this encounter as well, with Van Gaal's two substitutes – Leroy Fer and Memphis Depay – scoring the two goals which eventually ensured their place at the top of Group B.
"My substitutions are down knowledge of the players and the opposition, but their impact is down to luck!"
Chile will learn from this loss, knowing they need to have a Plan B in their attacks to find a way to break down a well-marshalled defence, who like to sit back a little and hit on the counter.
Jorge Sampaoli insisted his players had given it their all in the game, and are more than deserving of heading into the last 16, most probably against Brazil, with their heads held high.
"We kept going and fighting for 90 minutes, but ultimately we didn't get the result," Sampaoli said. "We wanted to win this game and we gave our all. We felt that Netherlands only wanted to defend.
"We expected Netherlands to go on the counter-attack with regularity and for such a long time we limited them to long shots. I felt that our intensity and commitment was outstanding.
"Our players should have their heads held high as we've played well in the three games so far and we're now through to the Round of 16."