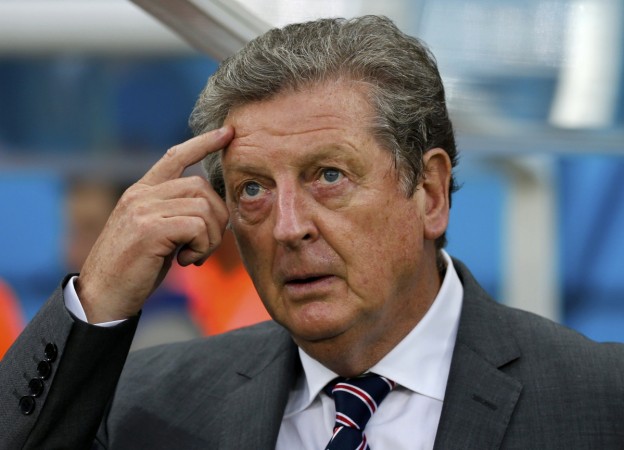 England head coach Roy Hodgson says that he is not planning on resigning following the Three Lions second successive defeat in the 2014 World Cup against Uruguay on Thursday.
Luis Suarez shone at the Arena Corinthians in São Paulo, as he sealed England's fate by scoring a brace in the two sides' second Group D fixture.
The Three Lions, who are facing an early World Cup exit for the first time since 1958, will only reach the last sixteen of this tournament if they manage to beat Costa Rica by a considerable margin. Also, they will be relying on Italy to register wins in both their remaining games against the Costa Rica and Uruguay.
Still Hodgson, who still has two more years remaining on his current contract with England, insists he will not resign even if the Three Lions fail to make it out of the group stages.
"I don't have any intention to resign. I'm bitterly disappointed, of course, but I don't feel I need to resign, no," said Hodgson.
However, he says that he will leave if he asked to by the Football Association.
"On the other hand, and if the FA think I'm not the right man to do the job, that will be their decision, and not mine. I've been really happy with the way the players have responded to the work we've tried to do."
Hodgson, who was earlier very optimistic about England's chances in the 2014 World Cup, admits that his side now have a very slim probability of making it to the knockout phases.
"Our chances (of progressing) are unbelievably slim. It will depend on Italy winning their next two matches by a good number of goals, and us beating Costa Rica by the requisite number of goals. To be in with a chance of continuing we really needed a result today, a draw or a victory, and we didn't get it."
Nevertheless, Hodgson says that he is pleased with his side's performances, especially the way they handled Suarez.
"I thought we controlled Suarez well in general play. He did very well to get away to the back post for the first goal but we kept him very quiet for long periods of the game.
"We're normally used to seeing him a lot more active in and around the box. The second one was an unfortunate flick from Steven Gerrard to put him free for the goalkeeper. He doesn't miss from them. To make certain, you don't allow him the flick to put him through on the goalkeeper."