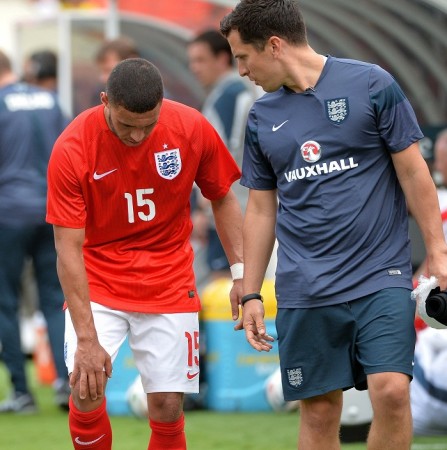 England manager Roy Hodgson remains hopeful over Alex Oxlade-Chamberlain being fit and ready to compete in the FIFA World Cup 2014 in Brazil.
Oxlade-Chamberlain, who was probably the man of the match for 60 minutes of the friendly against Ecuador on Wednesday in Miami, injured his knee in a clash with Carlos Gruezo, with subsequent scans confirming ligament damage.
"Alex Oxlade-Chamberlain sustained a medial knee ligament injury during Wednesday's game against Ecuador and will now be monitored and treated by the England medical team," the FA said in a statement.
The doctors have not given a fixed timeframe for Oxlade-Chamberlain to recover from his injury, but England coach Hodgson insisted he would give the Arsenal midfielder as much time as possible to be passed fit, especially after impressing so much in the 2-2 draw against Ecuador.
"We have the right to replace him if we want to up to 24 hours before the first game," Hodgson said. "We will do everything we can to keep him with us because, we would like to think we might go beyond the group stage although we can't guarantee it, we are certainly planning for it.
"And he played so well yesterday [Wednesday]. He was undoubtedly our best player in the time he played and it would be a major blow if we lose him."
Hodgson has Manchester United midfielders Michael Carrick and Tom Cleverley on the standby list, with one of the two likely to be called up if Oxlade-Chamberlain loses his fitness battle.
Oxlade-Chamberlain missed the final part of the English Premier League season with a groin injury for Arsenal, with the midfielder also not featuring in his club's FA Cup final triumph over Hull City.
However, Arsene Wenger was confident the midfielder, dangerous to any defence with his searing pace and trickery, would be available for England for the World Cup, which proved to be the case.
So, it would be a great pity if Oxlade-Chamberlain fails to recover from his latest injury, with the 20-year-old also admitting he is keeping his "fingers crossed".
"Gutted to have picked up an injury yesterday," Oxlade-Chamberlain tweeted. "I'm staying positive and getting to work with the medical team on recovery. Fingers crossed!"
Hodgson also admitted he would be practising a similar policy. "He was excellent. He was back really to his best so all I can do now I suppose is cross my fingers and touch every piece of wood I pass by that it is not serious."