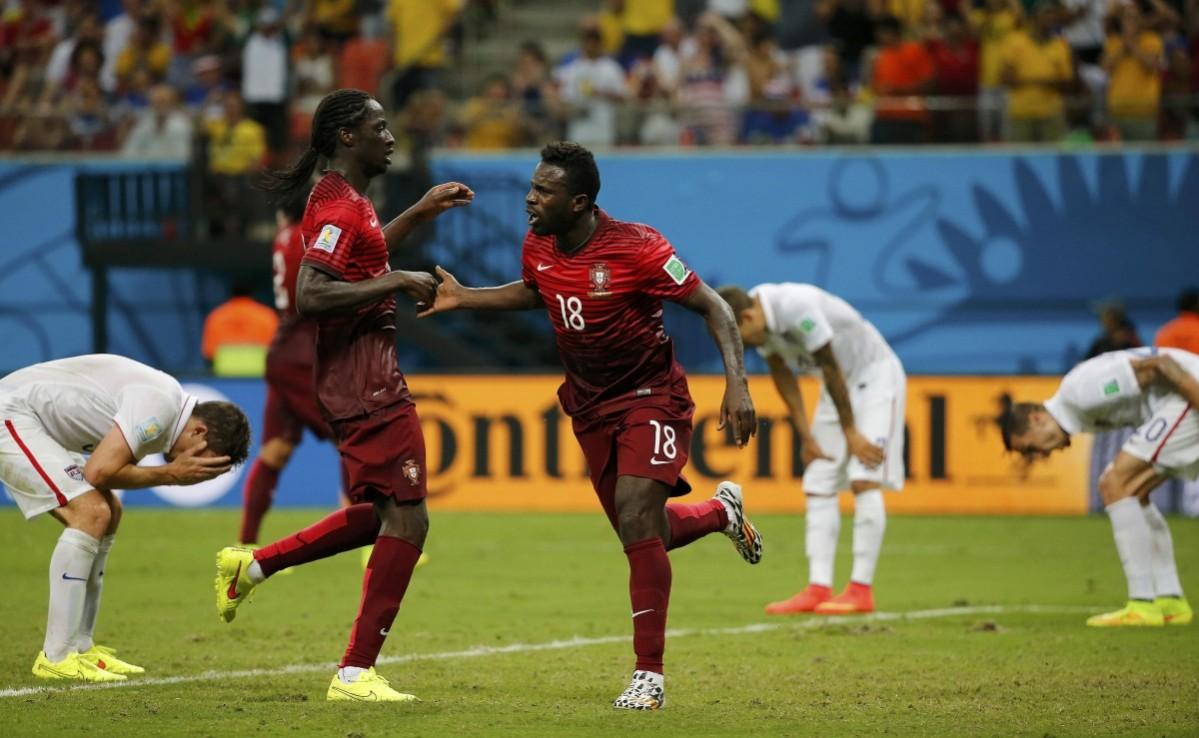 Portugal managed to rescue a point in their second group game of the 2014 World Cup against USA thanks to an injury time goal from Silvestre Varela.
Despite getting off to a flying start courtesy a very early strike from Nani, Portugal started losing their bearings as USA clawed their way back into the game via goals from Jermaine Jones and Clint Dempsey.
However, just as USA looked like they were about to secure a place in the last sixteen of the competition, Varela went and grabbed the leveller in the 5th minute of injury time.
The match started with Portugal going in front in the 5th minute of the game through Nani, who found the net after the ball came to him following a deflection off the shin of Geoff Cameron.
USA responded immediately in the 13th minute through a free-kick by Dempsey but the former Tottenham midfielder's effort was just wide of the post.
The USA captain was in the thick of the action as he started launching more attacks on the Portuguese defence. While Dempsey's effort from a tight angle was saved by Beto in the 17th minute, he nearly found the net a minute later when his attempted lob (following a corner) was just wide of the post.
At the other end, Portugal nearly doubled their lead just before half time when Nani's effort thundered against the post. The rebound fell to Eder but the forward was unable to convert as Howard tipped his effort over the crossbar.
With only ten minutes into the first half, Ricardo Costa denied USA a certain goal after he managed to clear Michael Bradley's effort off the line.
However, USA were soon rewarded for their continued attacks as they finally got the equaliser in the 64th minute. Portugal failed to clear the ball from a corner and Jermaine Jones found the net with a stunning effort from just outside the box.
With only nine minutes remaining, USA stunned Portugal by grabbing the lead through Dempsey. Graham Zusi whipped a cross into the box and Dempsey eased the ball past Beto with his stomach.
Just when a defeat was looking inevitable for Portugal, Silvestre Varela grabbed the equaliser in the 5th minute of injury time. Ronaldo swung a cross into the box and the 19-year-old made no mistake as he powered a header past Howard.
Catch the highlights of the game below: