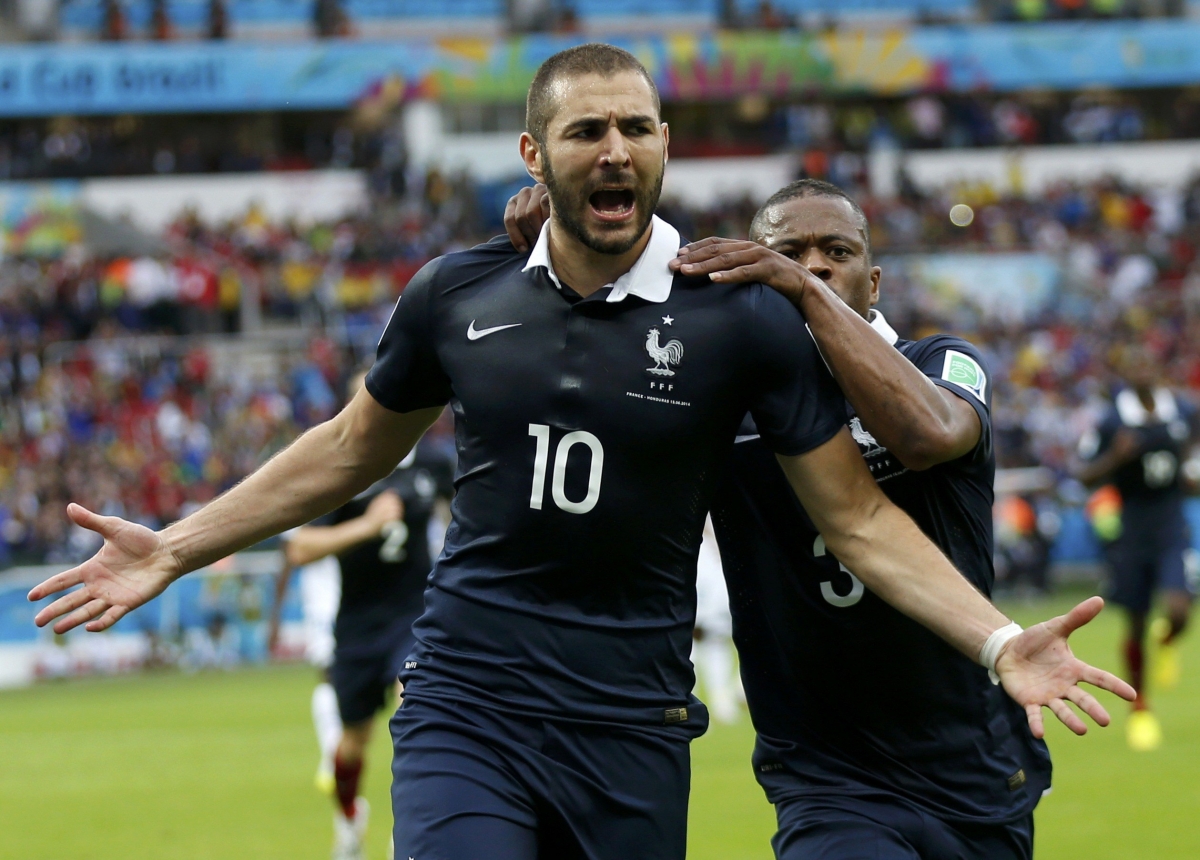 France opened their 2014 World Cup campaign with a comfortable 3-0 win over Honduras, courtesy of a brace by striker Karim Benzema.
The Real Madrid striker opened the scoring through a penalty, before Honduras goalkeeper Noel Valladares doubled the Les Bleus advantage by scoring an own goal. Finally Benzema sealed the match by grabbing his second goal in the 72nd minute.
Antoine Griezmann, who made his first competitive start for France, got a very good chance to break the deadlock in the 6th minute, when he managed to get hold of a poor clearance. However, his goal bound effort was blocked by Valladares.
Honduras brought themselves under a lot of pressure after they committed a lot of fouls near the box. Valbuena fired a series of free-kicks but Valladares was able to save them all.
Blaise Matuidi and Antoine Griezmann were both denied by the post as France began to increase the tempo of the game towards the half hour mark.
Griezmann nearly broke the deadlock in the 38th minute after he managed to powerfully connect with left-back Patrice Evra's cross. But the youngster's header thundered against the crossbar.
Finally the Les Bleus broke the deadlock after Honduras conceded a penalty in the dying minutes of the first half. Wilson Palacios, who was already on a yellow card, unnecessarily brought down Paul Pogba in the box and the referee showed no hesitation as he took out a second yellow and awarded France a penalty.
Benzema stepped up and easily found the nets, giving France a much needed lead.
With only three minutes into the first half, France doubled their lead through an own goal from Valladares. Cabaye swung the ball into the box towards Benzema, who fired the ball past an on-rushing Valladares.
The ball rebounded off the post towards Valladares, who collected the ball. However, the French side were awarded a goal after the referees consulted the new goal-line technology.
Finally Benzema put the icing on the cake by grabbing his second in the 72nd minute. Debuchy, after receiving the ball from a free-kick, unleashed a powerful effort from the edge of the box. However, his effort struck Evra before rolling towards Benzema, who found the nets with an excellent strike into the roof of the net.
Check out the highlights of the game below:
Also, Check out these pictures capturing the best moments of the game: