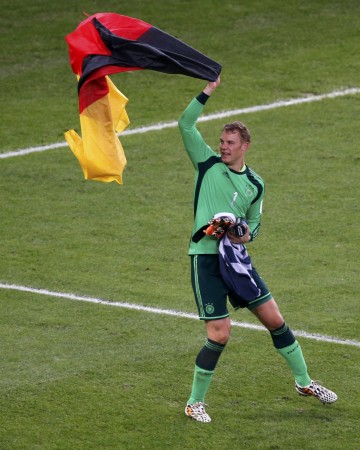 It was no surprise that the Golden Glove came Germany goalkeeper Manuel Neuer's way. Neuer's performances in the World Cup were nothing short of outstanding. He had four clean sheets and conceded just four goals in seven games.
Most goalkeepers in this World Cup enjoyed a very good tournament. USA's Tim Howard in the second-round encounter against Belgium made a record 16 saves. Meanwhile, Mexico's Guillermo Ochoa denied Brazil a win in the group stage game, by making some stupendous saves. Keylor Navas' showing throughout the World Cup was exemplary; his performances in the matches against Greece and the Netherlands stood out.
1) Keylor Navas - Costa Rica vs Uruguay [3-1]
In this game against Uruguay, Navas somehow tilts back and puts a hand out to save Diego Forlan's left-footer that looked goal-bound. The match ended with Costa Rica winning 3-1.
2) Guillermo Ochoa - Mexico vs Brazil [0-0]
Ochoa was splendid in the game against Brazil. Here, he saves Neymar's header. The Mexican ensured that Brazil could not score how much ever they tried, and Luiz Felipe Scolari described Ochoa's performance as spectacular.
3) Keylor Navas - Costa Rica vs Uruguay [3-1]
Navas again. In the same game, he leaps to his right and ensures Edison Cavani's header does not see the back of the net. Navas was nothing less than inspirational right through the World Cup.
4) Manuel Neuer - Germany vs Portugal [4-0]
Here, the Golden Glove winner makes sure Germany does not concede a consolation goal in injury time, even after being 4-0 up against Portugal. He keeps this powerful free kick from Cristiano Ronaldo out.
5) Stipe Pleitkosa - Croatia vs Brazil [1-3]
In the opening match, Croatian goalkeeper Stipe Pleitkosa dived to his right to deny Oscar. The Brazilian's powerful strike looked goal-bound, however a lunge by Pleitkosa ensured Oscar would not have any reason to celebrate.
6) Fatau Dauda - Ghana vs Portugal [1-2]
In this group stage match, the Ghanaian stopper keeps Ronaldo's header out and ensures Ghana remained alive in the World Cup at that point.
7) Guillermo Ochoa - Mexico vs Netherlands [1-2]
The Mexican goalkeeper denies the Dutch here. Only a Wesley Sneijder piledriver and a contentious penalty converted by Hunteelar late on could defeat Ochoa. But before that, it looked as if nothing would get past Ochoa.
8) Tim Howard - USA vs Belgium [1-2]
Against Belgium, Howard kept his side in the game time and again, making save after save. It was he who ensured that the scoreline was 0-0 after 90 minutes. If not for Howard, the Belgians could have registered an easy victory. Here is a compilation of his 16 saves.
9) Rais M'Bolhi - Algeria vs Germany [1-2]
M'Bolhi 's performance in this game was nothing short of inspiring as somehow Algeria took the game to extra time against the mighty Germans. Here is a compilation of some of the saves he pulled off.
10) Manuel Neuer- Germany vs Algeria [2-1]
Neuer often doubled up as a sweeper in this game and kept the Algerians at bay. Here, is a video of him making some fine saves in the match. The Germans, with the exception of Neuer, were not at their best in this game.