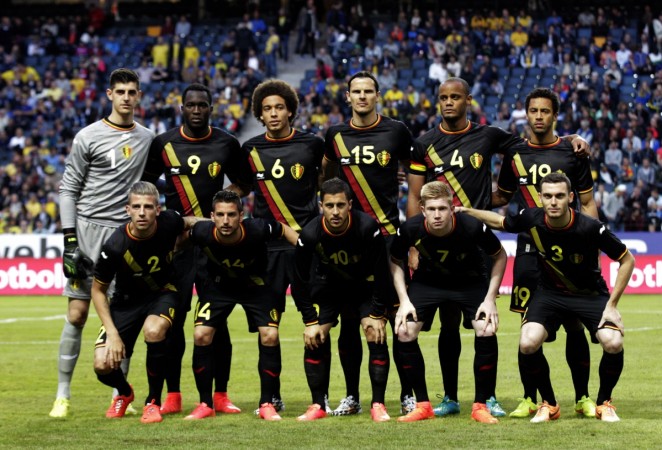 Belgium, Russia, Algeria and South Korea battle it out for a place in the round of 16 in Group H of the 2014 World Cup.
Belgium are finally back in the World Cup after failing to qualify for the tournament in 2006 and 2010. The squad has slowly evolved over the years, with the team producing some exciting players, possessing a lot of talent and individual skills.
The Belgians are known to dominate possession and force the opposition on the back foot with their physical presence. They are rarely outmuscled and their players provide an abundance of creativity and flair in the middle of the park.
With the squad housing an array of attacking players including Eden Hazard, Kevin De Bruyne, Romelu Lukaku, Marouane Fellaini, Adnan Januzaj, the Belgians are definitely a force to reckon with in this World Cup.
Also, the Belgian's defences led by Vincent Kompany are known to give nothing away. Goalkeepers Thibaut Courtois and Simon Mignolet were also very impressive at their respective clubs last season.
The road to the 2014 World Cup was a fairly easy one for Belgium as they topped their qualifying group with eight wins, two draws and no losses.
Belgium are susceptible, though, on the break as they usually play with a high defensive line. The one aspect that might trip up this vastly talented Belgian side is their inexperience in big tournaments.
Meanwhilem the absence of captain Roman Shirokov, who has been ruled out with a knee injury, will prove to be a big blow for Russia as they look to prove themselves in the 2014 World Cup.
The 32-year-old midfielder played a big hand during the qualifying phases where Russia came out on top of their group despite suffering back-to-back losses against Portugal and Northern Ireland in their final two fixtures.
"Shirokov is a very important member of Russia's squad but I hope that the rest of the players will be able to perform at their best level in Brazil," said Russia head coach Fabio Capello.
Russia, who usually preferred to play counter-attacking football in the 2012 European Championships, have shown a dramatic improvement since the arrival of former England manager Capello.
They have been especially good at the back, conceding only 5 goals in 10 games during the qualifying phases. Their midfield has also been very impressive, playing some energetic pressing football.
However, the Russian side do lack a bit in players with experience of playing in major leagues, as most of them haven't been involved in any other leagues outside their country. Still the Russians will be hoping to at least qualify for the knockout stages of the World Cup.
South Korea have been very impressive ever since they were given the chance to co-host the 2002 World Cup with Japan.
They surprised everyone when they made it till the semifinals of the 2002 World Cup, beating the likes of Italy and Spain on the way. They were not impressive in the next World Cup as they failed to make it out from the group stages. In 2010 the South Koreans made it to the round of sixteen, before being eliminated by Uruguay.
Head coach Hong Myung-Bo, who captained South Korea in the 2002 World Cup, has changed the team's whole style of play, discarding their previous long ball style. Now the South Korean's play a more technical-based football, relying more on quick attacks through the wings. While Bolton winger Lee Chung-yong attacks and sends in crosses from the right, Bayer Leverkusen's Son-Heung-min does the same from the left.
However, the South Koreans lack a top-class striker up front and this has been a big problem for them. Their preferred striker is Park Chu-Young, who has barely made an appearance for the Gunners since signing in 2011.
Their other strikers Koo Ja-cheol, Lee Keun-ho and Kim Shin-wook also lack quality and are not able to provide consistent threat to the opposition.
Finally their defence consisting of Yun Suk-young, Kim Young-kwon, Hwang Seok-ho, Hong Jeong-ho, Kwak Tae-hwi, Lee Yong, Kim Chang-soo and Park Joo-ho is also very inexperienced and raw.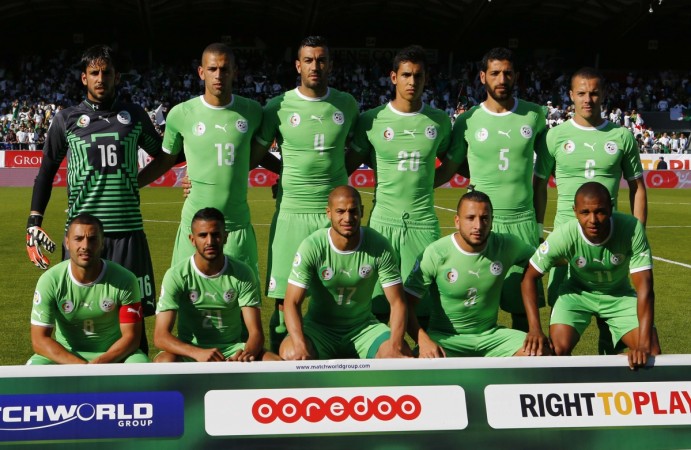 Finally, Algeria have made improvements in their overall football over the past couple of years after concentrating on standards at grassroots level.
With the emergence of a new professional league, the country has seen an influx of a lot of talented players. And these players have improved the standard of the whole team.
Algeria will want to wash off the disappointment of their 2010 World Cup campaign, where they were eliminated from the group stages after managing a draw and two defeats.
Head coach Vahid Halilhodzic has managed to introduce a balance between attacking football and solid defending in the Algerian side.
The Desert Foxes' front three consisting of Islam Slimani (main striker), Al Arabi Soudani (left wing) and Sofiane Feghouli (right wing) are capable of working in channels as well as getting on the end of crosses.
The midfield, which usually consists of Nabil Bentaleb, Saphir Taider and Yacine Brahimi, are known for their energy and mobility, providing some quick assists to the attackers.
Algeria's full-backs also provide a lot of threat to the opposition defences. Faouzi Ghoulam is known for his quick runs from the left flanks, but right-back Aissa Mandi, on the other hand, does not roam from his position too much to give stability to the defence.
However, Algeria's central defence consisting of Majid Bougherra and Carl Medjani may turn out to be a bit of a problem. Although Bougherra is good in aerial duels, he is not very impressive when it comes to interception and tackling. Medjani, on the other hand, is not able to close down attackers with a lot of pace even though he is a pretty decent all-round defender.
Key players: Belgium: Despite the squad consisting of a number of key players, Chelsea's Eden Hazard is probably their most important player. The 23-year-old player maker has been an instant success in the Premier League since joining Chelsea in the summer of 2012. Possessed with extraordinary dribbling skills, flair and an eye for goal, the Belgian was voted as Chelsea's player of the season after netting 14 goals and providing seven assists in the Premier League last season.
Russia: Dynamo Moscow forward Alexander Kokorin is probably Russia's most important player following the injury of their captain Shirokov. The 23-year-old is very versatile capable of playing in the left wing, the hole as well as up front. Kokorin was also impressive during the qualifiers, scoring four goals in eight starts.
South Korea: Bayer Leverkusen forward Son Heung Min is definitely South Korea's most important player, creating 126 chances in the Bundesliga last season. The 21-year-old, who arrived at the Leverkusen for a club record of £8.5 million, will be a very useful player, considering his experience in the German league.
Algeria: Valencia midfielder Sofiane Feghouli is the Desert Foxes' key man, scoring four and assisting eight goals in the La Liga. The French-born midfielder, who opted to play for Algeria despite representing the Les Bleus in the under-18 and under-21 levels, is known to make key passes as well as shoulder defensive responsibilities.
Fixtures:
17 June 2014: Belgium v Algeria, Estadio Mineirao, Belo Horizonte
17 June 2014: Russia v South Korea, Arena Pantanal, Cuiaba
22 June 2014: Belgium v Russia, Estadio do Maracana, Rio de Janeiro
22 June 2014: South Korea v Algeria, Estadio Beira-Rio, Porto Alegre
26 June 2014: South Korea v Belgium, Arena de Sao Paulo, Sao Paulo.
26 June 2014: Algeria v Russia, Arena da Baixada, Curitiba
Prediction: Belgium to top the group, with Russia in second followed by Algeria and South Korea