Germany and their golden generation will be given another opportunity to go that extra mile all the way to the final and actually get their hands on that famous golden cup, something the country hasn't managed to do for 24 years.
Standing in their way at the first hurdle, and a massive hurdle it is, are Portugal, Ghana and USA, three teams, who like Germany, also made it to the knockout stages in the 2010 World Cup in South Africa.
The 2014 World Cup has been tagged as one of Germany's best chances at the title; filled with delightfully gifted playmakers, playmakers that can make you drool in awe with their silky touches and skills, this side coached by Joachim Low has it all.
Low has at his disposal one of the best goalkeepers in the world in Mauel Neuer, who if not fit will be replaced by a top-class keeper anyway. Arguably the best right-back in Philipp Lahm, also their captain fantastic, a wonderful core of midfielders capable of playing anywhere on the field, and an experienced, been-there-done-that striker in Miroslav Klose, who will be extra motivated to find the back of the net to beat Ronaldo to the all-time scorers list in World Cup finals.
The only real issue might be at the centre of defence, with the likes of Jerome Boateng, especially capable of a clanger or two, while it remains to be seen just how the likes of Mats Hummels and Benedikt Hoewedes perform on the biggest stage of them all. Per Mertesacker's experience at the heart of the defence will be vital.
Low has also had injuries to deal with, with the national side losing the Bender brothers, Lars and Sven, while Ilkay Gundogan was also not available to be picked. The biggest blow, though, landed a few days back when their in-form playmaker – Marco Reus – was ruled out due to an ankle injury, picked up in a friendly against Armenia. Germany, however, do have the attacking ability to get over that loss, albeit a big one, a reason why Low replaced Reus with a defender in Shkodran Mustafi.
Germany's biggest threat to topping the group will be the Cristiano Ronaldo-led Portugal, who will bank on their superstar, fit and raring to go after overcoming a couple of nagging injuries, to guide them to their first World Cup title.
Portugal, however, do not have a great recent record against Germany – three times they have faced their fellow European side in the last four major international tournaments, and all three times they have ended up on the losing side.
Germany have handed defeats to Portugal in the 2006 World Cup, Euro 2008 as well as Euro 2012. So Germany would have been the team the Portuguese wanted to face the least. Finishing second, though, is not as bad a thing as it might be in other groups, as the second-placed team in Group G are likely to face either Russia or Belgium.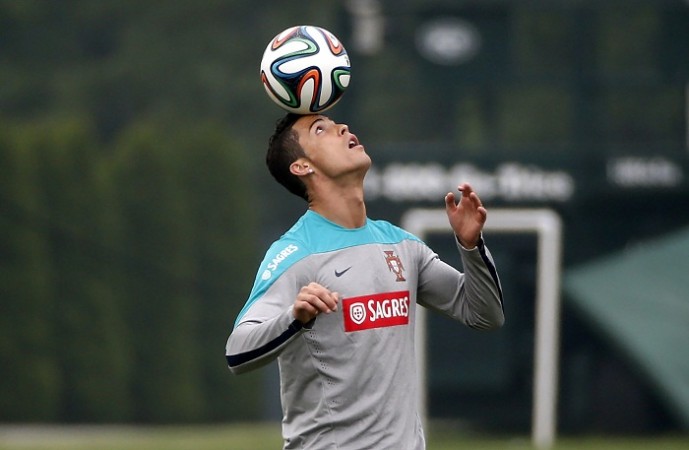 Paulo Bento would have had a minor heart attack or two as Ronaldo kept struggling to get fit for the WC finals; but the Real Madrid talisman came through a friendly against the Republic of Ireland in New York on Tuesday unscathed, much to the relief of the entire Portuguese population, as well as fans of Ronaldo.
Ronaldo, alone, cannot win Portugal the World Cup, though, and much will depend on his supporting cast – if they step up on the biggest stage of them all, then Portugal just might reach the business end of the tournament.
Looking to break through the European party in Group G will be Ghana and the USA. Ghana were the most impressive African side at the 2010 World Cup, and were it not for that infamous handball from Luis Suarez, they might have even made it to the semifinals, rather than crashing out in dramatic circumstances in the quarterfinals to Uruguay.
Kwesi Appiah, one of the rare coaches from Africa, has been given the job of taking this Ghana side as far as possible. Ghana, on their day, like they showed in the last World Cup, can bring down any team. They have plenty of experience, especially in midfield with the likes of Michael Essien, Sulley Muntari and Kwado Asamoah, while the forwardline will be led by Asamoah Gyan and Kevin-Prince Boateng. There will also be some pressure on the Ayew brothers to stand up and be counted, especially the older sibling Andre.
The plot of Group G thickens with the USA, who lost to Ghana in the last 16 in South Africa four years ago and are currently coached by a German legend in Jurgen Klinsmann. Klinsmann was a pivotal player in the 1990 West Germany team that won the World Cup, and having coached Germany in the 2006 WC, the former Bayern Munich and Tottenham man will now look to topple his home country. Klinsmann will know all about Germany's coach Low, who was his assistant during the 2006 WC in Germany, before taking over after Klinsmann's departure.
This USA team, under Klinsmann, has shown plenty of promise, even if they have blown a little hot and cold at times, and the coach will be under pressure to produce results after making the controversial decision of leaving out arguably USA's greatest ever player in Landon Donovan.
While there is experience in the squad, despite the dropping of Donovan, there are quite a few fresh faces, making their first World Cup appearance as well, and the fact that they have been drawn in one of the toughest groups in the tournament, might make or break them.
This group really is Germany and Portugal's to lose, but emotions will run high when Klinsmann and his US side line up against the former, and all of the pre-match action prior to that game will be one of the highlights of the group stages, even if the actual match on the field might turn out to be a bit of an anti-climax.
Key men: Germany: There are quite a few to pick from this ridiculously talented squad, but Mesut Ozil, who has copped a lot of criticism for being a little under-par for Germany of late, might just be saving his best for the biggest platform in football. Thomas Muller was the bright young thing at the last World Cup, and the Bayern Munich forward, along with midfielder Toni Kroos, will be key to Germany's fortunes as well.
Portugal: Cannot look past Ronaldo, of course. If he clicks, like he did in the UEFA Champions League this season for Real Madrid, then Portugal will go deep in the tournament.
Ghana: Gyan had a brilliant tournament in South Africa, and the Africans will look to the striker for goals again. Also Kevin-Prince Boateng will want to shine, particularly in the match against Germany, where he will be up against his brother Jerome.
USA: Klinsmann and how much he gets out of this side. Tim Howard will need to have a brilliant tournament as well, because the goalkeeper is likely to be peppered with plenty of shots, especially in the matches against Germany and Portugal.
Fixtures: 16 June: Germany vs Portugal at Arena Fonte Nova, Salvador
16 June: Ghana vs USA at Estadio Das Nunas, Natal
21 June: Germany vs Ghana at Estadio Castelao, Fortaleza
22 June: USA vs Portugal at Arena Amazonia, Manaus
26 June: USA vs Germany at Arena Pernambuco, Recife
26 June: Portugal vs Ghana at Estadio Nacional, Brasilia
Prediction: Germany just too strong for the rest of the teams and top the group with three wins, while Portugal finish second with Ghana and USA missing out.