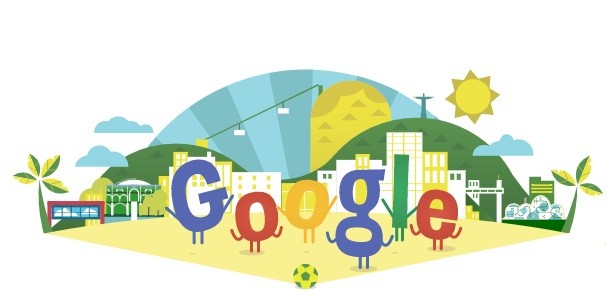 As the world anxiously wait for FIFA World Cup 2014 to kick off in Sao Paulo tonight, search engine giant Google has joined the hysteria by acknowledging the world's biggest sporting event with a doodle which beautifully depicts Rio de Janeiro, Brazil.
A football in the colours of the Brazil national team (yellow and green) rolls over the search bar on Google, before the animated alphabets dance and hop in joy. The background depicts the country, with the statue of Christ the Redeemer on top of a green mountain.
The statue, which is one of the landmarks in Brazil, is seen overlooking Rio and its skyline. Two cable cars are also seen traveling to and fro, representing the Sugarloaf Mountain located near Guanabara Bay.
Brazil, five-time World Cup winners, will be looking forward to win the title on their home turf. They last lifted the trophy in 2002 in Korea.
The FIFA World Cup 2014 opening ceremony will take place at the Arena Corinthians in Sao Paulo tonight, before the hosts take take on Croatia in the opening game.
The opening ceremony of the sporting event will begin at 3:15pm local time on Thursday (17:00 GMT/10:30pm IST) at the Arena Corinthians in Sao Paulo, and conclude at 5:15pm (19:00 GMT/12:30am IST). The ceremony, which will feature celebrities and over 600 dancers, is expected to draw as many as one billion television viewers.
"The Opening Ceremony is a tribute to Brazil and its treasures: nature, people football," the show's artistic director Daphne Cornez told FIFA. "The sense of excitement here is amazing and everyone is very motivated. It doesn't matter whether they're feeling tired or hot sometimes or if they have to go through routines again and again: they just keep on smiling. It's amazing."
Pitbull, Jennifer Lopez and Brazilian singer Claudia Leitte are going to perform the FIFA World Cup 2014 theme song "We Are One (Ole Ola)" live at the opening ceremony. Beyonce Knowles and The Beatles' Sir Paul McCartney will also perform. FIFA president Sepp Blatter has also reportedly invited Palestinian "Arab Idol" winner Mohammed Assaf to perform at the event.
(Image credit: screenshot from Google)