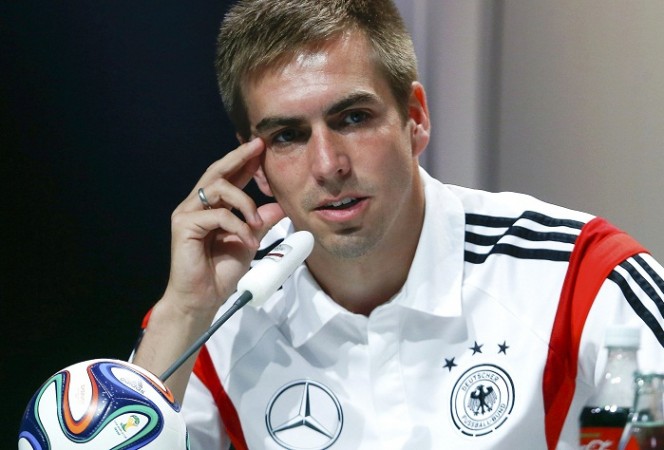 Germany skipper Philipp Lahm has insisted that they need to prove themselves against a tough Algeria side and justify their title of favourites in the Round of 16 clash at the Estadio Beira-Rio on Monday.
The three-time champions have been defeated by the Desert Warriors in previous two outings - in an international friendly in 1964 and in 1982 FIFA World Cup - and Lahm said they have to show a commanding performance against the North Africans.
"We're in the knockout phase - either you deliver or you go home," Lahm said. "Germany have been world champions three times and there aren't that many teams who can say that."
"We have had great teams in the past and this squad has great potential, but we have to take it a round at a time and play aggressively," he added. "I think we are the better team, but we have to prove that on the pitch."
Meanwhile, Germany centre-half Jerome Boateng is convinced that Germany can end their woeful record against the African side and qualify for the quarterfinals.
"We have magnificent players and loads of quality in the starting line-up and on the bench," Boateng said. "It means we can always vary our play, and every one of us can influence the game at a moment's notice. That's definitely a plus."
Joachim Low coached side has conceded just two goals in the tournament so far and managed to keep two clean sheets in three matches. The Bayern Munich player said they have defended pretty well in the World Cup, despite conceding twice against Ghana.
"We've done well so far apart from the second half against Ghana," Boateng said. "It was end-to-end and totally open and we didn't want that. But we performed well against Portugal and USA. Overall, we can be happy enough. At the end of the day we've comfortably won our group, and now we want to take the next step against Algeria."
Algeria have qualified for the knockout rounds, beating South Korea and playing a draw with Russia, they narrowly went down against Belgium in their opening fixture. The 25-year-old believes The Greens are a determined and a physical unit that are capable of pulling off an upset.
"You sense huge determination and passion," he said. "The players have French roots, and many of them have come through the very good French coaching system. And I've seldom seen such a physically robust team."
"Their forwards are quick and the defence is strong," he added. "Algeria keep it very tight and they're smart tacklers. Anyone who believes we can start thinking about the quarter-finals already is making a big mistake. They have fantastic ability."