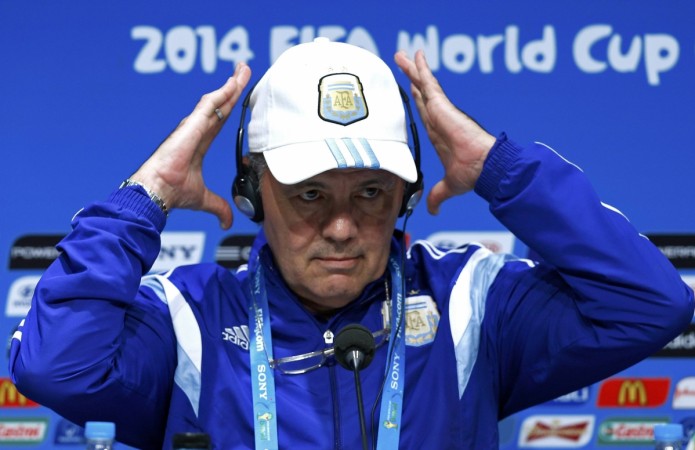 Argentina coach Alejandro Sabella feels his side need to be on their very best if they want to triumph over a confident and well rested Germany in the final of the 2014 World Cup in Rio de Janeiro on Sunday.
Having reached the finals of the World Cup for the first time since 1990 (where they were incidentally beaten by West Germany), thousands of Argentinean fans are counting on their side to win the competition this year.
However, Sabella, who has seen Germany bury hosts Brazil in the semifinals, admits that Argentina will have to lift their levels to beat Joachim Low's side.
"We have to remain very concentrated and close all the spaces open to them. Most importantly, we can't give the ball away cheaply. Germany are always very strong physically and tactically. For that reason they are the team that has won most titles along with Brazil and Italy," said the 59-year-old Argentinean.
"They use the ball very well and play the ball between the lines. They also use the space behind full-backs very well, especially with (Philipp) Lahm. We have to play a perfect match."
Argentina were expected to reach the final on the basis of their attacking prowess, owing to their star studded front line consisting of Angel Di Maria, Sergio Aguero, Lionel Messi, Ezequiel Lavezzi and Rodrigo Palacio.
However, in the end, it was the South American side's defensive abilities that saw them through in the knockout phases following the injuries of Di Maria and Aguero.
And Sabella, who was forced to change his side's formation following the injuries, praised his side for adapting so well to the new tactics.
"It is to the great credit of the players who have worked very hard. The formation has also changed which has allowed us to protect the full-backs more and close off the space. That has given us more balance."
Finally Sabella insists that Argentina's 4-0 loss against Germany in the quarterfinals of the 2010 World Cup will not be on the back of their minds when they face Low's side on Sunday.
"Argentina is a more conservative team than four years ago. We look for the victory in a different way. Then the players tried, but it wasn't to be. Germany scored a very early goal which changed the game," added Sabella on Saturday.
"Hopefully it won't be the same tomorrow and if there is an early goal it is ours. The situation is different tomorrow although many players are the same."