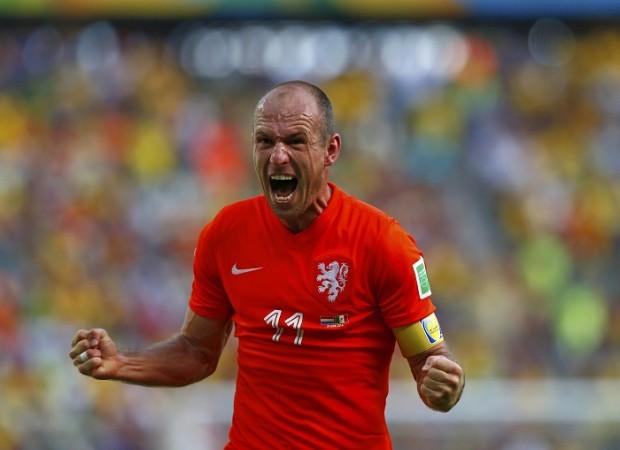 Dutch winger Arjen Robben has claimed that Germany will win the 2014 World Cup without a shadow of doubt, as he feels that Argentina "will not stand a chance" against Joachim Low's side.
While Germany crushed hosts Brazil 7-1 to reach the finals of the competition, Argentina narrowly edged Netherlands 4-2 in the penalty shootouts after nether side could break the deadlock in 120 minutes.
And Robben, who is now preparing for the Netherlands' third place clash against Brazil, feels that Germany will steam roller Argentina on Sunday's final at the Estadio Do Maracanã in Rio de Janeiro.
"Germany's going to win the World Cup. No doubt about that. The Argentines will not stand a chance," Robben told German Sports Magazine Kicker.
Meanwhile Argentina head coach Alejandro Sabella agreed with Robben's sentiments as he feels that Germany, who have had an extra day of rest, will be a very formidable opponent to his tired side.
​"Some of our players are sore, beaten, tired - the results of a war, so to speak. The match is extremely difficult and I repeat the fact they haven't played extra time and we've played two, and played one day after Germany. Germany is always a very difficult hurdle to overcome," said Sabella.
"We'll see if it's a minor issue, the fact we played after and the Germany game was decided in the first 45 minutes, so they could ease off in the second half, whereas we had to spend all the effort, and every last drop of sweat to reach the World Cup final."
Despite praising German football and admitting that they have a difficult task in the finals of the 2014 World Cup, Sabella insists that the La Albiceleste will not be giving up without a hard fight.
"Germany throughout their entire history have always shown physical might, tactical, mental prowess, and have always had players with a certain South American touch," he said.
"We have a final to play, with one day less to prepare and against a team like Germany, but with work, humility and seriousness, we'll do all we can to make it all the way to the top," said Sabella.