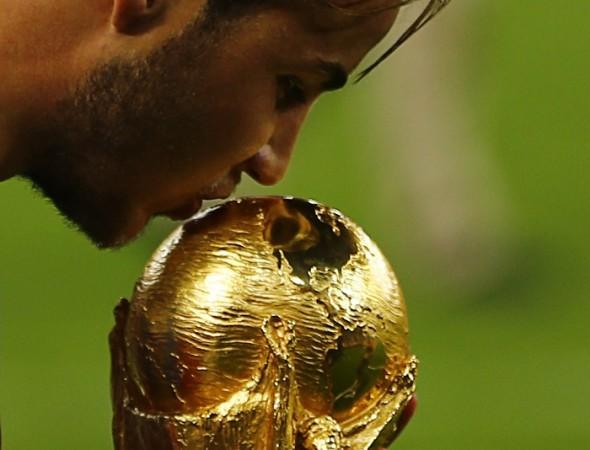 Germany have been quite often referred to as machines, who just know how to get the job done time and again on the big stage.
However, while that ruthless efficiency was in full view yet again in the can't-take-your-eyes-off-it "did you see that Gotze goal, what a strike!" FIFA World Cup 2014 final in Rio De Janeiro, there was also that bit of human element, which only made Germany's win just that little bit sweeter.
Yes, the defending was heroically machine-like at times; yes, the midfield (read Bastian Schweinsteiger) was immense; yes the forwards created enough chances with android like efficiency; yes, the 11 players on the pitch functioned as one, like they have done so often in this tournament and in the past.
Yet, there was just that extra bit of passion and desire (again, read Schweinsteiger) to force their way past the Argentina wall and with it grab the biggest prize of them all in football.
"I think that we were 50 days together but this is a project we started 10 years ago," Germany coach Joachim Low said. "We started it with Jurgen Klinsmann and then we continued it. Our biggest strength is that we improved throughout the years even if we missed taking that last step at tournaments.
"We knew we would take that last step and we believed in it and today it finally worked."
A title was always coming, and you felt the World Cup in Brazil, even if a European side had never won the title on South American soil before, was their best chance. The only real team that could stop them was going to be the hosts themselves, and we all know how that went don't we.
Apart from desire, which you never really need to forage to find when you head to a World Cup, there was also pain that was motivating this German side. Time and again they had fallen at the final hurdle, or the one below that – be that in the World Cup or the European Championships.
"We were disappointed at times in the past but in the final there was only deserved winner," Low added. "This team. It is a special moment because it was not just these days here but the entire 10 years."
That pain of just not being able to take that decisive step to seventh heaven, was eventually what made the difference in the end – Germany just had to win it; they couldn't face another disappointment, while Argentina were, in a manner, just happy to be there in their first final since 1990, and also almost took it for granted that Lionel Messi would carry them home past the irrepressible Germans with a wonder strike.
It's always nice when you see the best team in the tournament eventually go all the way and stand up on that podium, with smiles and laughs and grind wider than the length of the pitch, as that golden cup is passed around. And Germany were the best team at this World Cup, not by a country mile, but by enough to be the deserved winners of the title in Brazil.
The scary part for their opponents is, this is a young Germany side – there is plenty of petrol still left in that tank, and next in line will be Euro 2016, before they target a defence of their title in Russia at the 2018 FIFA World Cup.
Before that, though, there will be plenty of celebration – a lot of German beer being poured down the throats, and deservedly too – this team led by Philipp Lahm is a joy to watch, maybe even a little more than the 2010 WC champions Spain, and long may the success continue.