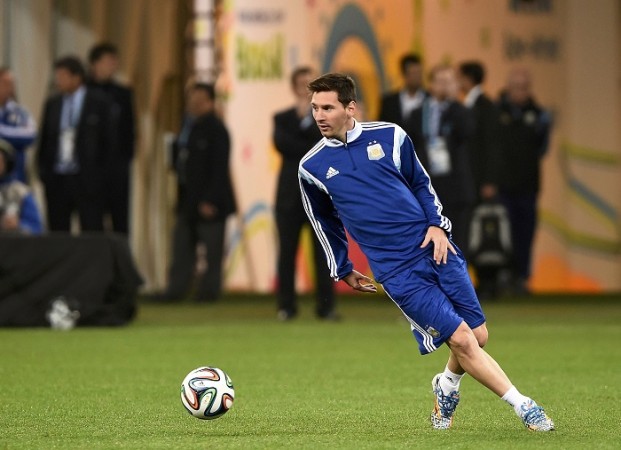 Argentina skipper Lionel Messi is confident that his side can beat Germany in the 2014 World Cup final on Sunday, though the European side has proved to be a formidable opponent, crushing hosts Brazil 7-1 in the semifinal.
Although La Albiceleste have not been at their best, considering their star-studded squad on paper, they have managed to reach the final, beating some good sides including Belgium and the Netherlands along the way.
And now, Messi insists that Argentina, who have reached the World Cup final for the first time since 1990, are ready to overcome their last hurdle in the form of Germany.
"My dreams and my hopes are being fulfilled due to the hard work and sacrifice of a team that has given everything from match one. We knew it was possible. Our people, the Argentineans, they have carried us here," Messi posted on his official Facebook page.
"But the dream is not over yet. We want to win and we are ready! We will play the most important match of our lives for our country."
Meanwhile, Argentina striker Sergio Aguero feels Germany will be under a lot of pressure in the final as they have always been considered one of the favourites to win the 2014 World Cup.
Germany, who beat Argentina 4-0 in the quarterfinal of the 2010 World Cup, faced some difficulties against Algeria and France in the Round of 16 and quarterfinal respectively this time but are expected to win the final, following their comprehensive win against Brazil in the semifinal.
And the Manchester City striker believes that the weight of expectations on Germany will give Argentina a slight advantage in the final.
"Germany were always the favourites, along with Brazil, to win the World Cup. They continue to be so now. We need to play our own game and it suits us that all the pressure is on them. We are in the final and we have to play it and win it in whatever way possible," Aguero told reporters.
Elsewhere, Argentina legend Diego Maradona is certain that La Albiceleste will beat Germany in Rio de Janeiro on Sunday.
"Messi will score twice on Sunday and we will win the World Cup. If he wants to get in front of me I'll prepare the red carpet for him. The team with the best player will win and we have him," said Maradona, who was Argentina's captain when they last lifted the World Cup in 1986.