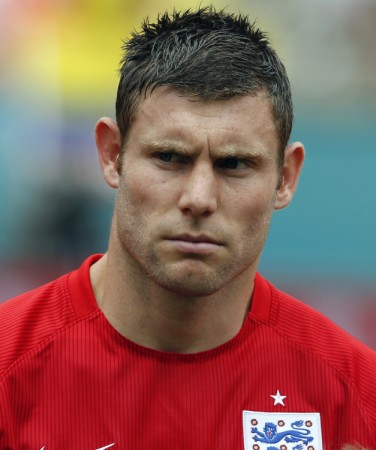 England midfielder James Milner is confident that the Three Lions' combination of youth and experience will help them do well in the World Cup.
England, who have been drawn in a very difficult pool alongside Italy, Uruguay and Costa Rica in Group D, faces the Azzurri in the opening game of the World Cup on Sunday.
Though several pundits and fans have ruled out the Three Lions' chances of qualifying to the knockout phases, Milner is certain that England will prove everyone wrong.
"As a group going forward we've got great experience, a lot of youth. It's a really good mix. With that mix of energy, youth and experience, I'm sure we can do good things," the Manchester City star told Sky Sports.
"We have a tough group but with the squad we've got I'm sure we'll do well. Yes, it's tough, but teams are at the World Cup because they're the best at the world."
However, Milner insists the team needs a positive result in their opening game against Italy.
"The first game is always important, we need a good result there. It's out in the rainforest and it's going to be pretty warm. With the team we've got, a lot of the lads are in good form and they've had really good seasons. Hopefully they can feed off that energy now," the 28-year-old pointed out.
Also, Milner, who featured for England in the 2010 World Cup and the 2012 European Championship, feels his experience will come handy in Brazil.
"I've been to a World Cup and the Euros in the past and that experience will help. You always want to play as much as you can and contribute to the team. To play in those three big games at the end of the season for City, helping get those results, was great."
Meanwhile, Milner's teammate Phil Jones hopes the energy level of England's youngsters like Raheem Sterling, Ross Barkley, Alex Oxlade-Chamberlain, Luke Shaw, Jon Flanagan and John Stones will benefit the Three Lions in the 2014 World Cup.
"The players that have come through - the likes of Raheem [Sterling], Luke [Shaw], and let's not forget Jon Flanagan and John Stones, who have been terrific this season as well - I think there's a real excitement about those players.
"They've come to light in the last year or two and they've done terrifically well. I think everyone's hoping that they can produce on this stage and we know they can. The ability they have got is enormous and hopefully they can produce it on the big stage," Jones told Fifa.com.