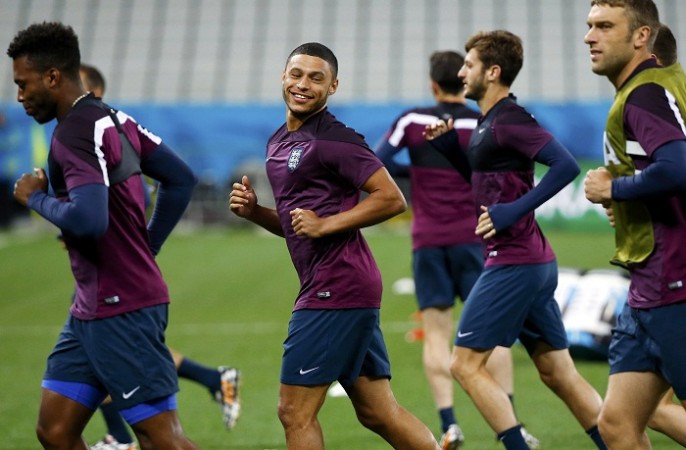 Alex Oxlade-Chamberlain has been ruled out of England's must-win encounter against Uruguay at Arena de Sao Paulo on Thursday because of a knee injury.
Earlier, it was expected that the Arsenal midfielder will be ready in time for the much-anticipated clash, but England's coach Roy Hodgson informed that the 20-year-old will not be ready for the Thursday's Group D clash.
"He is not in contention for tomorrow, but he will take part in the next four training sessions," Hodgson informed. "We could have taken a chance with him tomorrow, but it would be much better if he uses the four days after this game and before the Costa Rica game to train with the team."
"Fortunately for us, his injury has responded really well to treatment but I don't think we will put him into the firing line tomorrow before he has had some training sessions with the team," he added.
Meanwhile, England's manager insisted that he is satisfied with Wayne Rooney's performance despite not scoring against the Azzurri in the first match. Hodgson said the stats show that the 28-year-old is contributing for the team and he does not want to indulge in any sort of debate over the England star striker.
"I try not to comment too much on where pressure is brought to bear. I don't control what people are writing or reporting. I was satisfied with his performance against Italy. Stats said ran more than any England player, had more sprints than any other."
"Wayne is one of our three players with World Cup and European Championship experience with 100 caps, or nearly in Wayne's case, and they have to expect the focus is on them."
The Three Lions will face elimination if they fail to prevail over the South Americans in the upcoming encounter and Hodgson said he will use all his resources against the former champions.
"We saw on Saturday night that even a top team like Italy got tested by the quality of our attacking play so we're not going to put any of our weapons down," he stated. "Any weapon we've got we are going to try and use."
"Even though it is the group stages, this is knockout football," he added. "It is an important moment. We want to stay in the competition and to do that we've got to get results in the next two games. No one is running away from that."
Hodgson said their defence will be tested against Uruguay, which features dangerous players like Luis Suarez, Diego Forlan and Edinson Cavani.
"They have two absolutely top class forwards in Luis Suarez and Edinson Cavani and a third in Diego Forlan," said the England manager. "They have very talented midfielders also especially Rodriguez and they're strong at set-plays and very experienced. Add them together and it's a strong team."
"They must be disappointed with opening game but like us that's in the past," he said. "We expect to see Uruguay with their big guns blazing. We'll have to be certain our defending is sufficient to keep them at bay while posing questions ourselves."