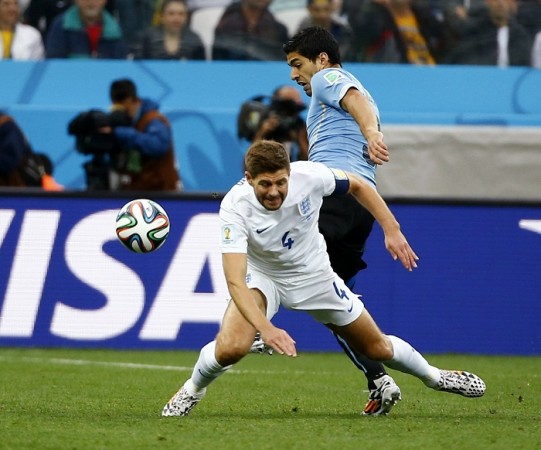 After losing the crucial second group-stage match against Uruguay 2-1 at the Arena Sao Paulo on Thursday, England skipper Steven Gerrard admitted that the Three Lions are now "clutching at straws" in the World Cup.
England have lost both their encounters in Group D so far, and are now facing an exit from the tournament. Roy Hodgson's men are heavily dependent on tonight's Italy-Costa Rica clash as a draw in that tie will confirm their elimination from the competition.
The Three Lions have a long road ahead of them to qualify for the Round of 16 as they will not only have to win their last match against Costa Rica but also hope Italy get the better of both Costa Rica and Uruguay in their remaining matches.
"Italy are a fantastic team and capable of winning both games but we're clutching at straws," Gerrard admitted. "The position we're in is the position we didn't want to be in coming into the tournament, relying on other people's results. It's very difficult at the moment."
"We'll have to wait and see what happens in tomorrow's fixture. The manager will have to wait and see what happens before deciding what he is going to do. If there's nothing to play for then I don't know if he'll play a completely different team. But it's a very tough moment, at this moment."
The Three Lions defence looked vulnerable throughout the match as they failed to confine Luis Suarez. Uruguay took the lead in the first half through the Liverpool striker.
Wayne Rooney did equalise for England in the 75th minute, when Glen Johnson poked the ball to the Manchester United striker. England sensed victory and went all out for the winner but a routine ball from goalkeeper Fernando Muslera in the 85th minute went to Suarez, and the Uruguayan talisman made no mistake in shooting past Joe Hart.
Gerrard feels they should have approached the game a bit differently after getting the equaliser and should have played cleverly by seeing off the clock.
The England captain also stated the English players did quite well in both games and after such performances, they deserve better than to depend on other results for their survival in the tournament.
"It is frustrating. We never managed the game well enough when we got the equaliser. We can't give chances to Luis Suarez because he buries them from that position. It's a really tough moment for everyone in the dressing room but we need to be professional, keep fighting and pray for that scoreline to go for us.
"[We are] sort of frustrated because looking at the two games and how we have performed we sort of deserve something out of either one of them if not both of them. I don't think I am standing here saying we were poor in both games and our game plan was wrong. I just thought when we got the equaliser today we just needed to be a bit more clever, a bit more cute and a bit more difficult to beat. Maybe accept that going for a point might have been the best option."