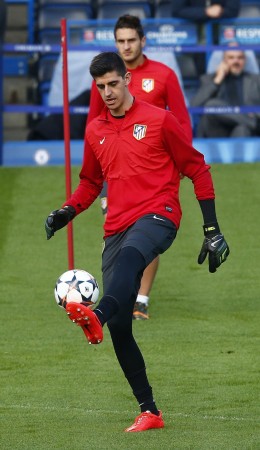 Belgian goalkeeper Thibaut Courtois feels that his familiarity with Lionel Messi in the La Liga will give his side an advantage during their 2014 World Cup quarter-final clash against Argentina.
Messi has failed to find the nets during Barcelona's last seven meetings with Atletico Madrid, courtesy of some brilliant goalkeeping from Courtois, who has spent the last three seasons with the Los Rojiblancos, on-loan from Chelsea.
Now as Belgium prepare for their quarter-final clash against Argentina, he is confident that his experience against Messi will give him a slight advantage during the match.
"I know him well from Atletico's games against Barcelona, so it'll be nice to play against him for our countries. Hopefully we can win, but we'll see. The good thing is that I don't have to watch videos of him because I know him so well," ESPN quoted the 22-year-old shotstopper.
However, despite his experience with Messi, Courtois admits that the four times Ballon d'Or winner will always be a big threat to any side.
"But even if you watch videos of him, he's so unpredictable that it's impossible to study him to know what he's going to do. As soon as he finds a way to shoot, he will shoot, so the only thing you can do as a goalkeeper is concentrate at all times."
The former Genk goalkeeper feels that Belgium have to be very organised at the back against the Argentinean side, who have an array of star players leading their attack.
"Saturday's game will be a huge one, because Argentina have a great team, and we are showing that we are growing into the tournament. I hope we can win, but it will be tough. To hold on in defence we must be very well organised," added Courtois.
Despite admitting Argentina's attack is very strong, the Chelsea goalkeeper feels that Belgium can exploit the South American side's weak backline.
"Argentina have a very good attack, which does not just depend on Messi, there is also [Gonzalo] Higuain, [Angel] Di María, [Ezequiel] Lavezzi, [Sergio] Aguero, but at the back they are not so strong. That is where we can do them damage," he added.