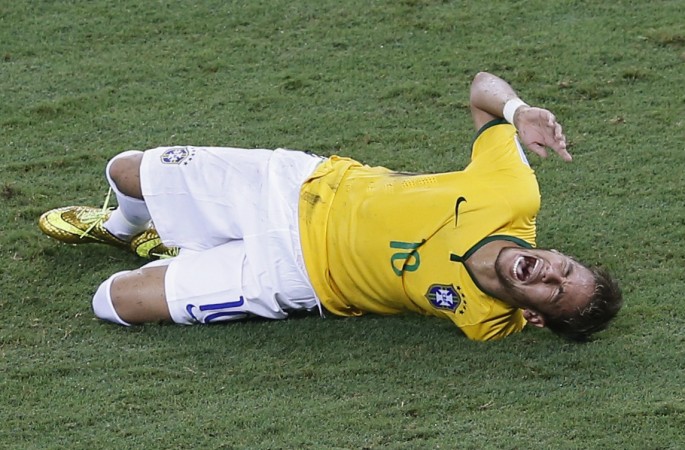 To say that Colombian defender Juan Zuniga has incurred the wrath of Brazilian fans, for his tackle that left Neymar sidelined, is an understatement; he reportedly faces death threats now.
In light of these alleged threats, his country's football governing body, Federacion Colombiana de Futbol (FCF), has guaranteed that he will be provided with protection.
"FCF rejects all threats and insults against the player Juan Camilo Zuniga and his family," Goal.com quoted an FCF statement.
The football body also pledged to take measures to make sure no harm comes Zuniga's way.
"It will continue taking all actions with the appropriate security and government organisations to give the necessary guarantees to the player, for both his time in Colombia and his permanent residency in Italy."
Neymar was ruled out of the World Cup after he broke a vertebra, following the Colombian defender's tackle in the quarterfinal.
The Colombia football federation is not the only body supporting Zuniga. The 28-year-old's club Napoli have also vouched their support to full-back, while wishing Neymar a swift recovery. The tackle did not contain any malice, however, its ramifications were unfortunate, according to Napoli.
"For the Brazilian champion we send our best wishes for a speedy recovery. At the same time, the club expresses its support for Zuniga, who has been subjected to fierce criticism and threats of all kinds. We note with relief that, in addition to the referee and his assistants, FIFA's disciplinary committee stated that there were no bad intentions on Zuniga's part," Sky Sports quoted a Napoli statement.
Replays showed Zuniga's knee making contact with Neymar's lower back, and the Brazilian striker immediately went to ground and was seen writhing in agony as he clutched his back. He was then stretchered off.
But the Colombian defender did not face any punishment and even defended his tackle. "It was a normal challenge," Zuniga had said.
The defender, however, faced intense criticism for the tackle. Brazilian skipper Thiago Silva was particularly scathing as he lashed out at Zaniga.
"I'm a central defender and I have never gone in with my knee high up like that on a rival's back. It was a cowardly tackle. There's no way you have you knee high up like that unless you want to cause a certain situation. It's not a normal match situation. That's my opinion on the matter," Silva stressed.
Former Brazil striker Ronaldo had also weighed in on the matter. While having a go at Zuniga, he implied that the tackle was ill-intentioned.
"The injury was a very violent one. There was an intention to cause some harm. I don't think it was a normal football play. I do believe it was aggressive. I didn't like the very high knee .I thought it was a highly violent and unlawful move by the Colombia player," Daily Mail quoted him.