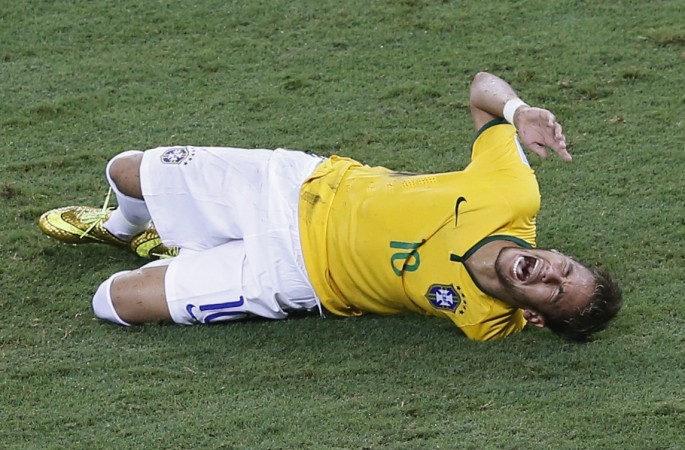 Neymar will be missing the rest of the 2014 World Cup after suffering from a broken vertebra (backbone) during his side's 2-1 win over Colombia in the quarter-finals of the competition.
The 22-year-old fell down in pain after Colombia defender Juan Zuniga kneed him on the back in the 87th minute of the game.
Neymar, who was in tears as he was carried off the pitch in a stretcher, was rushed to a hospital in Fortaleza, where doctors have confirmed that he will not be participating in the World Cup any further.
"Neymar had a scan, which confirmed he had fractured his third vertebra," said Brazilian Football Association doctor Rodrigo Lasmar. "In terms of the recovery process, it's a fracture that heals quickly, but unfortunately he'll be in no condition to play next week."
Despite confirming that the injury was not serious, Lasmar says that Neymar will require a few weeks to recuperate.
"It's not serious in the sense that it requires surgery, but he's in pain and he'll need to immobilise it to recover. He'll have to have it immobilised with a belt for a few weeks to be able to get back to full mobility."
Although Brazil forward Hulk admitted that the whole team is devastated by Neymar's unfortunate injury, he insists that the Selecao will have to move on and try to win the 2014 World Cup.
"It's very sad news. Nobody expected this. We are delighted with the win but sad about this news. It's all very frustrating. Neymar really looks after himself. He was so excited about the World Cup and he'd helped us so much. We have to get over this and run even harder for him. We're going to try and be the champions anyway and dedicate the title to him."
Meanwhile Brazil head coach Luiz Felipe Scolari feels that Neymar was being targeted by the opponents in each and every game of the 2014 World Cup.
"Neymar was going to be hunted. For three matches that has been happening," said Scolari, who added his disappointment after Zuniga went unpunished for the challenge. "Not even a yellow card, nothing. People think Germany, these or the others, only they are hunted, but not Neymar."
However, Zuniga insists that he was making a normal challenge and he never meant to hurt Neymar.
"I never meant to hurt a player. It was a normal move.I was playing for the shirt from my country, not with the intent to injure. I was just defending my shirt," said Zuniga.