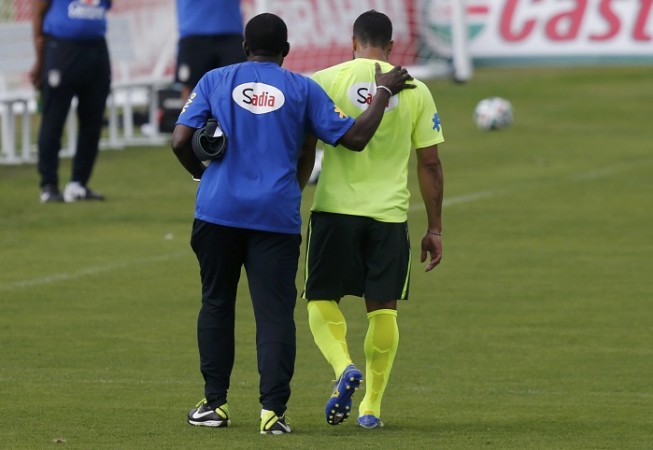 Brazil's star striker Hulk is set to miss the second match against Mexico at the Estadio Castelao because of a thigh injury.
Hulk, who started the opening match against Croatia, was seen limping during the team's training session. The 27-year-old missed rest of the practice session and Brazil coach Luiz Felipe Scolari said he was receiving treatment for a leg muscle problem.
The Brazilian coach said he will evaluate Hulk's fitness ahead of the match and is keeping his options open. Scolari insisted that Brazil will not be affected if Zenit St Petersburg striker misses the clash against El Tri, as they have a number of players to fill the vacant spot.
"We'll see how things transpire and decide before the match," said Scolari. "He didn't come as he'd have done nothing here."
"He wouldn't have run, wouldn't have participated. There was no need for him to come so he stayed behind and had treatment," he added. "I can choose a replacement with my eyes closed - there will be no problem. I have 23 players and I think I've selected them well."
"The other players I have, with a little bit different characteristics, also have different qualities to Hulk and they can add to team, add speed, stronger marking or another type of positioning that could help us more in the game against Mexico."
Meanwhile, Brazil skipper Thiago Silva said it will be a big loss if Hulk failed to start in their second Group A match. He also hinted that Scolari has already picked a replacement for the injured striker.
"Whoever he chooses, he can close his eyes and pick Bernard, Willian, he can select Ramires," Silva said. "I'm just giving some examples, because for sure we will be well served. Far from me (to pick the replacement), since I don't want to be responsible for that."
Ramires is likely replace Hulk in the starting XI and was seen training with the first-string side after former Porto star's departure and also had an impressed outing against Croatia after coming on as a substitute.
However, Hulk had earlier told that he is confident of playing against Mexico and will recover in time for the much-anticipated clash.
Both Brazil and Mexico have won their opening fixtures and would be aiming to cement their place at the top of Group A.