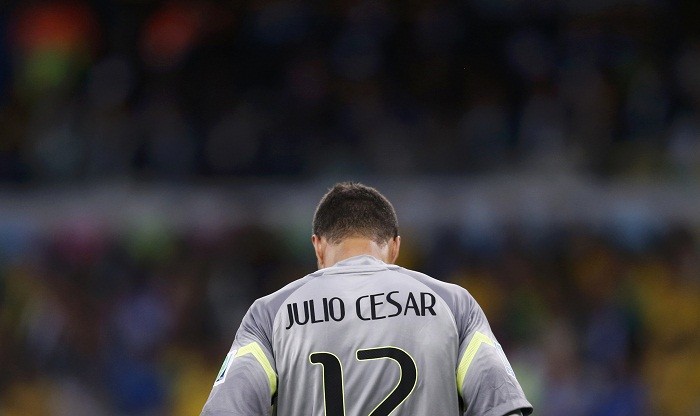 Brazil goalkeeper Julio Cesar admitted that his international career could well be over, following the Selecao's defeat in the World Cup third-place playoff against the Netherlands on Saturday.
The 34-year-old, who played for Toronto FC in Major League Soccer (MLS) in the second half of last season, said that representing Brazil in the 2015 Copa America and 2018 World Cup will be quite difficult for him.
"This is probably my last World Cup," Cesar said. "To play at the Copa America in 2015, at the age of 35, would be quite complicated. To go there without having the 2018 World Cup in mind would be selfish on my part."
The former Inter Milan goalkeeper played a vital role in Brazil's World Cup journey so far. He made crucial penalty saves in the pre-quarterfinal clash against Chile but could not do much in a 7-1 semifinal hammering by Germany.
"It is a sad moment for Brazilian football," Cesar admitted. "Now I think it is time to relax and try to forget about all of this. The time has come for other goalkeepers and I think Brazil has seven or eight who are quite capable of pulling on the national jersey."
Meanwhile, Brazil coach Luiz Felipe Scolari, after facing consecutive defeats in the World Cup, has left his future with the president of Brazil Football Confederation (CBF). The contract of the 65-year-old is coming to end and there are speculations that he might stay with the national team till the end of this year.
"The one who will decide my future is the president (of the CBF)," Scolari said. "We agreed beforehand that, once the competition was over, win or lose, we'd hand the reins to the FA directors (while a decision is made). We're going to finish off our report, hand it in to the president, and he'll know what to do next."
Scolari said that although his players failed to end the tournament on a high, they deserve credit for how they performed on the pitch and created chances.
"We haven't ended the competition well," Scolari pointed out. "We had the impression that it was going to be a very even game, but we conceded an early goal and that tipped the balance in their favour. I don't think that we played badly though, and I think the players deserve credit for what they achieved out on the pitch. The team battled and created chances."