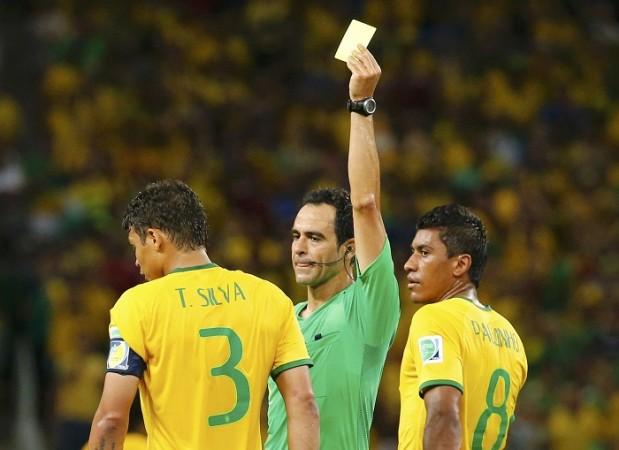 After losing talisman Neymar of a broken vertebra, Brazil World Cup hopes were dented as they will be without their skipper Thiago Silva in the semifinal against Germany at Estadio Mineirao on July 9.
Silva received his second yellow card of the tournament against Colombia in the quarterfinals, which ruled him out for the next match. David Luis will lead Brazil in the last-four clash against Germany on Wednesday.
Brazil Football Confederations (CBF) had appealed against the card, but the football governing body rejected the plea and issues a statement stating that considering a caution is only permitted in special circumstances.
"After an analysis of the matter and the extensive submission and documentation received from the CBF, the chairman came to the conclusion that the FIFA disciplinary committee cannot consider this matter in light of the conditions outlined in the FIFA disciplinary code... to be able to intervene in such a situation," the FIFA statement reads.
Meanwhile, the CBF was also pushing to investigate the matter related to Neymar's injury, which ruled him out of the World Cup. The hosts wanted action against Colombian defender Juan Camilo Zuniga, who hit the Barcelona striker with a knee in the closing stages of the match.
FIFA disciplinary committee rejected CBF's appeal in the statement and said that the disciplinary committee chairman has sympathy for star striker, but they cannot take any "retrospective action" against the Colombian defender in this case.
"The chairman of the FIFA disciplinary committee deeply regrets the incident and the serious consequences on Neymar's health," the statement reads. "No retrospective action can be taken ... since the incident involving the Colombian player Juan Camilo Zuniga Mosquera did not escape the match officials' attention."
"The conditions by which the FIFA disciplinary committee can intervene in any incident have to be considered independently of the consequences of that incident, such as an unfortunate injury suffered by a player."
"We wish Neymar a prompt and complete recovery as we wish the same for all players who have sadly been ruled out of the World Cup through injury."
Brazil coach Luis Felipe Scolari has insisted that the team has moved on with the incident and concentrating on reaching the final.
"He has done his share," Scolari said. "Now it's up to us to do our share."
"This match we'll be playing not just for ourselves, but for our country, for everything we've ever dreamed of, but also for Neymar and everything he's done for us," he added. "Within our group, we've accepted that. We've left our sad phase behind and we're focusing on other things."