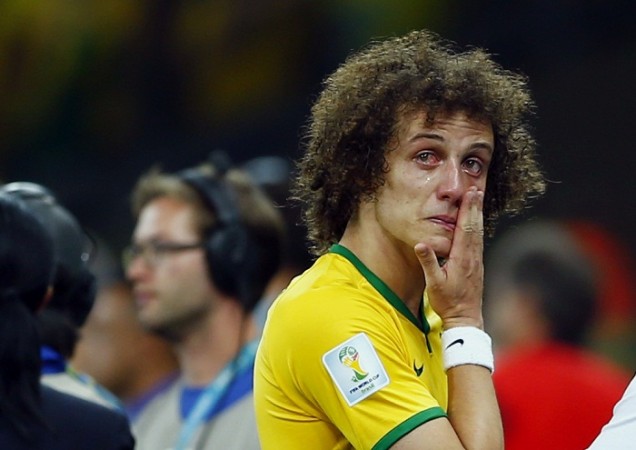 After facing a humiliating defeat in the semifinals of the World Cup at the Estadio Mineirao on Tuesday, Brazil star players are struggling to explain a shocking 7-1 scoreline.
"It is difficult to explain the inexplicable," said goalkeeper Julio Cesar. "Until now everything had gone very well. We had been very strong. It is so unexpected. Now we need to return home and be comforted by our families."
Brazil played without talisman Neymar, who was ruled out because of a fractured vertebra, and skipper Thiago Silva, who was suspended by getting his second yellow card in the quarterfinals. However, their coach Luis Felipe Scolari had insisted that they can cope with the Germans without their star players.
In the absence of Silva, Brazil's defence crumbled as the hosts conceded four goals in just six minutes, after Thomas Mueller opened scoring in the 11th minute. Stand-in skipper David Luiz, who scored a stunning free-kick against Colombia, was the main culprit.
The Paris Saint-Germain defender termed it one of the worst games of his career and called it a "day of great sadness" for the team.
"We had the worst game of our lives and Germany the best of their lives," said Luiz. "I am sorry for not being able to make the fans happy. We didn't win it and I ask for the forgiveness of all the Brazilian people. They were better and we conceded four goals in six minutes. It is a day of great sadness."
Dani Alves, who was dropped for the second successive game, said he had never seen a well-organised team collapse like this and has no explanation of what happened in those six minutes, when Miroslav Klose (23rd minute), Toni Kroos (24th and 26th minute) and Sami Khedira (29th minute) scored for Germany.
"It has been one of those nightmares that can happen in football," Alves said. "This has never happened to me in a game of football. That a team so well-organised, so complete in every area can lose four goals in six minutes. In my 31 years I have never seen six minutes so without explanation."
Brazil coach Scolari said the absence of Neymar is not an excuse for a crushing defeat and credited Germany for being a better side in the last-four clash.
"No, no, no. Let's not try to find an excuse in Neymar or the emotions of the anthem," Scolari said. "What happened was Germany imposed a fantastic rhythm on the game. They were able to score the goals to define the match. That diminished my team. Those six minutes of trouble, Germany made use of those moments."