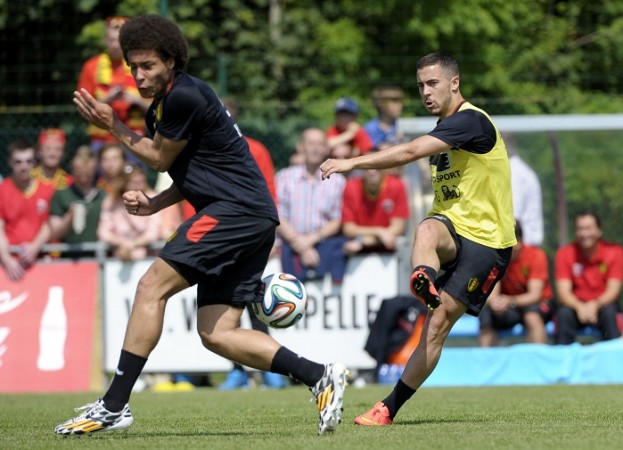 Belgium are set to face Algeria in their opening World Cup fixture at Estadio Mineirao on Tuesday and their boss Marc Wilmots has stressed that no pressure will be put on star midfielder Eden Hazard.
Hazard has scored 14 goals for Chelsea in 32 Premier League this season and is expected to carry his good form in the World Cup. Wilmots, however, eased some pressure from the winger before their first Group H clash.
"We shouldn't pressure him too much," Wilmots said. "He has all the potential to have a great tournament, but this isn't the World Cup of Eden Hazard. He alone can't do it all, it's a collective game."
Hazard has failed to transfer his Premier League form to the international stage so far, as he has just scored six goals in 45 matches. Wilmots said the 23-year-old has every weapon in his arsenal and urged him to convert chances against The Desert Warriors.
"He is one of the players who can be among the five best in the world," he said. "He has everything he needs and now it is up to him to release the handbrake and go. He is 23 years old and playing his first tournament. We will see how he goes. He has everything he needs."
Belgium feature a number of dangerous players, such as Vincent Kompany, Romelu Lukaku, Adnan Januzaj, goalkeeper Thibaut Courtois and Marouane Fellaini, termed as the golden generation.
Belgium are pooled alongside Algeria, South Korea and Russia and their coach Wilmots said they have some good players but their success will depend how they play as a team.
"It's not only a tournament for Eden, but for the whole team," Belgium boss said. "(There are many players) in our team that you can name going forward that are really good," he said. "But ultimately I consider our success down to our behaviour as a team."
Meanwhile, the Red Devils skipper Kompany insisted that their spirits are high and players are confident of playing well as a team in the opening encounter.
"We have known each other for a long time through the youth teams. We've always enjoyed playing together and coming back together. I only see advantages," Kompany said. "We play in the Premier League but we have our own style and our own belief. I really hope we can bring our best football to this competition."