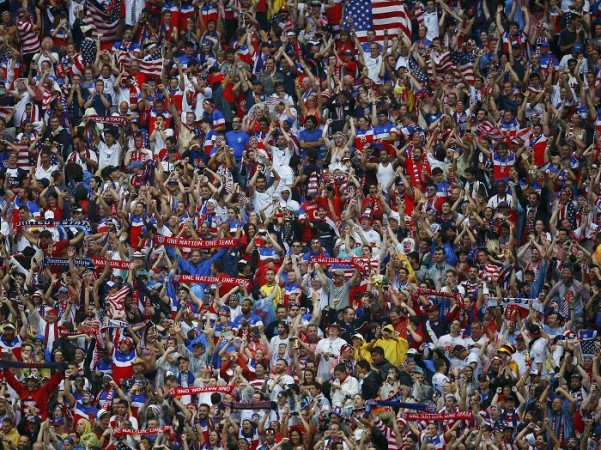 Barack Obama, the President of the United States, has hailed his team's progress to the Round of 16 in the 2014 World Cup. USA finished second in Group G with four points, despite losing their last match against Germany 1-0.
Both Portugal and USA finished on four points but the Americans edged the Cristiano Ronaldo-led side on a better goal difference. This is the fourth time USA has managed to clear the group stage, and they will meet Belgium in the knockout phase this time.
"We could not be prouder of them," Obama said. "They are defying the odds and earned a lot of believers in the process."
The American President watched USA's match from Air Force One - along with other top advisors such as Valerie Jarrett and Dan Pfeiffer - on his way to Minneapolis. Obama was photographed watching the match in the plane's conference room.
Meanwhile, USA coach Jurgen Klinsmann said it is a great achievement to advance to the knockout phase from a difficult group. He admitted that the players were a bit nervous at the start and played cautiously but as the game progressed, they calmed down and played pretty well.
"It's a great achievement to get out of this group and into the knockout rounds," Klinsmann said. "It was a difficult game, both physically and mentally, because the knowledge that a draw would be enough was always at the back of our minds."
"We were a bit too nervous and showed them too much respect at the start but we calmed down as the match wore on," he explained. "We've got a great team and we put in a superb performance. We could have created a few more chances but overall I'm satisfied."
Germany took the lead in the second half through Thomas Mueller but the Americans ensured that their opponents did not add any more goals. Klinsmann said his team is still learning and they have to start from zero in the Round of 16.
"It was one of the most difficult groups at the tournament. Ghana and Portugal are good teams and Germany are one of the favourites to win the title," the German tactician insisted. "We're still learning and growing as a team. Now everything starts from scratch again because the knockout rounds are very different."