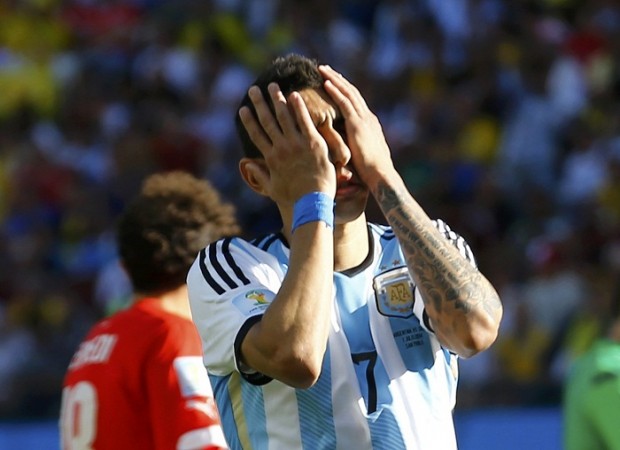 Midfielder Angel di Maria has been ruled out of Argentina's World Cup semifinal clash against the Netherlands slated to take place at Arena de Sao Paulo on July 10.
Di Maria suffered a first degree strain in his right thigh during quarterfinal win over Belgium and limped off the field in the first half on Saturday. However, the 26-year-old could play in the final if the South Americans manage to beat the Dutch.
"Angel has a grade one injury. Of course he won't play in Argentina's next game. After that, we'll evaluate the situation day-by-day," team doctor Daniel Martinez told reporters.
The Real Madrid midfielder has been one of the most influential players for Argentina along with star striker Lionel Messi. He scored the winner against Switzerland in the Round of 16 and also set Gonzalo Higuain's first half goal against the Red Devils.
"The group as a whole is very happy, except for the situation with Angel, which is a great shame," said midfielder Javier Mascherano. "We hope he recovers soon."
Meanwhile, striker Sergio Aguero has been declared fit for the last-four clash by the team doctor. "Sergio has practiced three times. He's ready to play," Martinez said.
The Manchester City forward missed two games because of a muscle strain but looked fully fit during team's training session in Belo Horizonte. The 26-year-old is expected to return in the Argentine team for the forthcoming encounter.
Argentina's defence will be in better shape against the Oranje as left-back Marcos Rojo will be back in the squad from suspension. The presence of Aguero and Higuain will lessen the impact of Di Maria's absence, but losing the Real Madrid player is a big blow to the former champions.
Mascherano said the team is focused on delivering similar performance against the skillful Netherlands and added that the players are determined to advance into the finals.
"Against Belgium, we used the spaces better," Mascherano said. "We didn't rush. We waited for the right moment to pass," he said. "It was a lovely game but it was yesterday. Now we're focused on Holland. We know they are still smarting from defeat (in the final) in South Africa four years ago."
"We've come far - Argentines have waited 24 years for this, but we want to go further," he added.