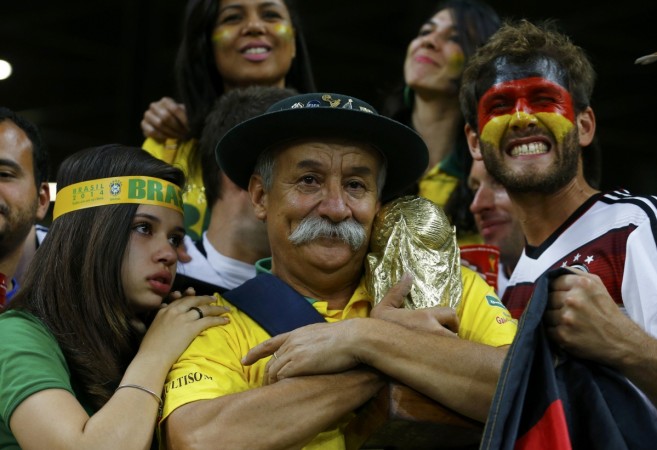 Now that their team is out of contention for World Cup glory after the humiliating 7-1 defeat in the semifinals, Brazilians will have to make a difficult choice ahead of the final on Sunday - whom to support? Archrivals Argentina or Germany, the team that hammered them in the semifinals.
Both teams are certainly not the ones Brazilians would like to support at the moment but the home crowd has to chose one now.
The football crazy nation wept after their quest for their sixth World Cup title - that too at home - was crushed by Germany by a six-goal margin. Losing by such a margin was not expected, despite the absence of star player Neymar and captain Thiago Silva.
The humiliating defeat may not go down too well with many of the country's football fans and some may even think the Germans were merciless on the day.
Also, Brazil will not like Germany to lift the title in Rio and move closer to equaling their record of five World Cup titles. The European side has won three World Cups so far.
The semifinal between the two was over in the first half, with Germany racing ahead to an unassailable five-goal lead. They went on to score two more in the second half and it looked like they could have scored more, if they did not slow down their play.
In what might earn the support of the Brazilians, Germany defender Mats Hummels revealed after the match that they decided during the break that they would not humiliate Brazil further.
Also, Germany playmaker Mesut Ozil wrote on his Facebook page: "You have a beautiful country, wonderful people and amazing footballers - this match may not destroy your pride!" which received 1,177,420 Likes, 87,559 Shares and 33,167 Comments at the time of filing this story. Most of the Brazilian visitors appreciated Ozil's words and pledged to support Germany in the final.
Having said that, there are also chances of Brazilians putting their rivalry aside and supporting their archrivals as a win for Argentina will tie South America with Europe for the most titles in World Cup.
Also, with European teams winning the last two World Cups, many want a South American nation to win the title this time.
Many Brazilians may find it hard to support Argentina, who have a 36-35 win-loss record against Brazil in their 95 meetings but Neymar has declared that he would support his Barcelona team-mate Lionel Messi and his team in the final.
"Messi's history in the sport is so important, he has won a lot of trophies and I will be cheering for him," Neymar said at a press conference. "He is a friend, he is my team-mate and I wish him luck."