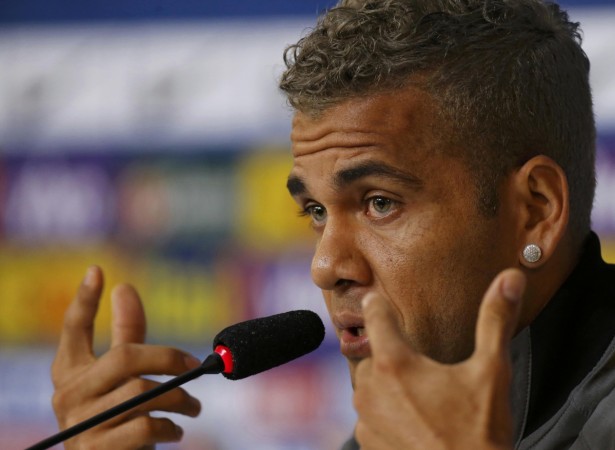 Brazil defender Dani Alves has angrily hit out at all "losers" and "a**h***s" who mocked his side, following their embarrassing 1-7 defeat to Germany in the semifinal of the 2014 World Cup on Tuesday.
The 31-year-old, who was ruled out of the semifinal following a back injury, was powerless as he watched his side succumb to a humiliating loss against the efficient Germans. The Barcelona man was seen consoling his teammates, who broke down following the heavy defeat on home turf.
However, many including Argentina legend Diego Maradona were quick to make fun of Brazil's defeat on social media.
And Alves reacted angrily to all the mocking and ridicule, saying: "I know a lot of a**holes will make fun. I know a lot of losers in the biggest game in the world, which is the book of life, will rejoice," the player posted on Instagram.
"I want to take this hard moment for all of us who chose football as a profession and who were chosen to represent our country in this World Cup. I would say that, for me to share with you all this time, was an unmatched pleasure," he added.
Despite their brutal elimination from the 2014 World Cup, Alves insists Brazil are true champions.
"But I would like to say publicly that you are f***ing champions. I am privileged to be part of this group, you are champions, which all these a**holes will never be. Today you are not respected here but in the rest of the world I'm sure you are. Bad days like this teach us to appreciate the good days."
Although Alves admitted that Brazil disappointed their fans, he feels their performances in the 2014 World Cup should not be judged by this loss alone.
"It won't be stained by a single match, or by the elimination. Our fight, and where we reached, nothing can stain this. Football isn't just about one match."
Coach Luiz Felipe Scolari also insists Brazil's overall performance in the 2014 World Cup was good.
"The tournament was not all bad. We had a bad defeat. With all the difficulties we reached the semi-finals. We are a hard-working team, we win together and lose together," he said.