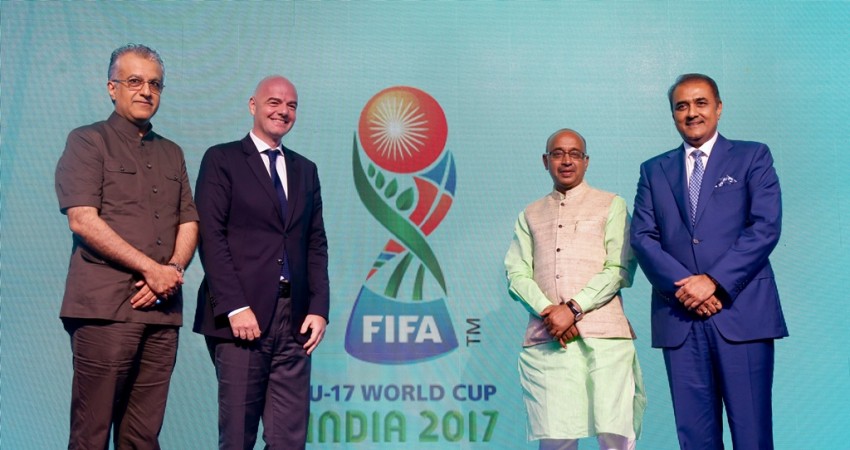 Round-up of India's group matches:
Venue: JLN Stadium, Delhi
October 9: India vs Colombia
Venue: JLN Stadium, Delhi
October 12: Ghana vs India
Venue: JLN Stadium, Delhi

Let's get all the info over here:
GROUP A: India (A1), USA (A2), Colombia (A3), Ghana (A4)
GROUP B: Mali (B2), New Zealand (B3), Turkey (B4), Paraguay (B1)
GROUP C: Germany (C3), Iran (C1), Costa Rica (C4), Guinea (C2)
GROUP D: Brazil (D3), Spain (D4), Korea DPR (D1), Niger (D2)
GROUP E: France (E4), Japan (E2), Honduras (E1), New Caledonia (E3)
GROUP F: Mexico (F2), England (F4), Iraq (F1), Chile (F3)
7:30 pm IST: Just the wait of a few more minutes.....and we get to know it all!
7:15 pm IST: A looooong speech by Union Sports Minister of India Vijay Goel.
7:05 pm IST: Nigeria football legend Kanu has taken to the stage along with former Argentina footballer Cambiasso. So has the mascot of the tournament....Kheleo!
7 pm IST: Vamos! Let's do this....HERE WE GO!
Before proceeding further, check this handy guide:
6:50 pm IST: Waiting.....Waiting.....Waiting for the draw!
6:40 pm IST: We have pics and vids coming from the event venue. Damn it's getting exciting!
6:30 pm IST: In 30 odd minutes, we head over to one of the most-anticipated days in Indian football. The FIFA U17 World Cup 2017 draw gets under way from Mumbai.
Who will India face in the group stages? Check out all the predictions here...
Tune in to this page with me Sayantan, bringing you all the live updates from the event. Alternatively, you can stream the event live here...