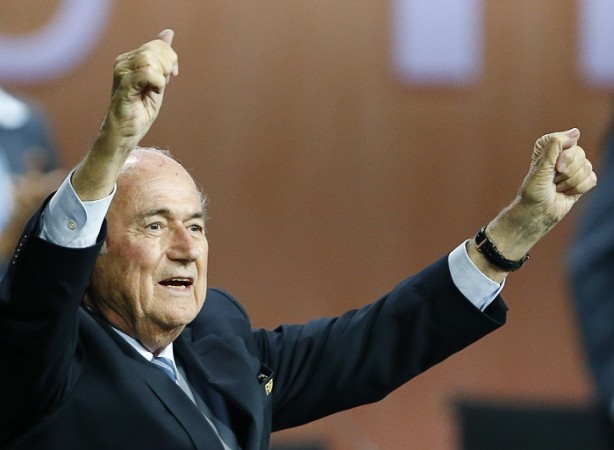 It was expected and inevitable, even with a tremendous wave of disapproval and upheaval in the FIFA ranks, Sepp Blatter was re-elected as the FIFA president for a fifth term, meaning he will now be at the helm of football's governing body for a further four years.
In a vote that was expected to go Blatter's way, his only contender for the job, Prince Ali Bin Al-Hussein, at least took the voting to the second round, before deciding, knowing that particular round also would only have one outcome, to withdraw and concede defeat to the seemingly unseatable Blatter.
Such was the high from the victory for Blatter, that the Swiss went with a typically Blatteresque victory speech.
"I thank you, you have accepted me for the next four years," he said. "I will be in command of this boat of FIFA. We will bring it back off shore.
"We won't touch the World Cup. I am a faithful man, God, Allah, whoever, they will help us to bring back this FIFA. At the end of my term, I will give FIFA to my successor. It will be robust.
"I like you. I like my job. I am not perfect. Nobody is perfect. Together we go. Let's go FIFA! Let's go FIFA!"
Of course he had said his previous four-year term would be his last and he would "give FIFA to my successor", so it remains to be seen if the unstoppable FIFA man will keep fighting for another four years after this latest term or not.
What Prince Ali can at least take heart from is that he was able to push the voting to the second round, even if it was only by a small margin, and even if the Jordanian eventually decided the second round would be unnecessary.
The candidates needed a two-thirds majority to win the FIFA Presidential elections outright in the first round, but Blatter missed out on the margin by a few votes after garnering 133 out of the 209 possible votes. Prince Ali could only pick up 73 – before the FIFA corruption crisis it would have been considerably smaller – with three votes reportedly spoiled.
"I just wanted to thank all of you," Prince Ali said. "It's been a wonderful journey. I want to especially thank all of you who were brave enough to vote for me."