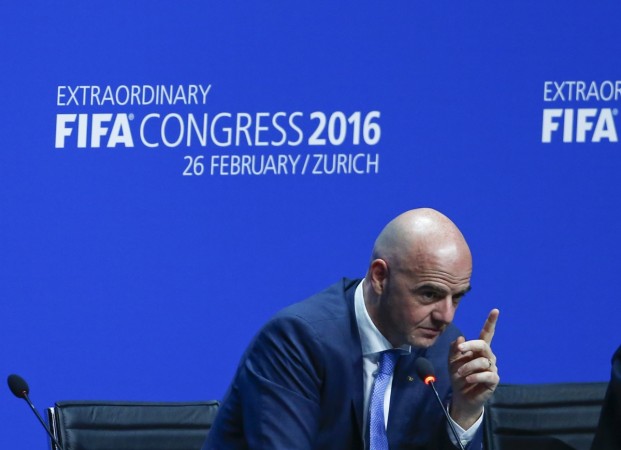 Many football fans are familiar with new FIFA President Gianni Infantino. The former UEFA general-secretary was the man conducting proceedings during the Champions League and the Europa League draws, and football lovers do find him a light-hearted, honest man.
Sadly for them, Infantino, 45, will not probably be seen again during the UEFA draws, but the upside of it is the bald former lawyer will be seen calling the shots for the development of football all around the world.
And that means in India as well.
Moments after getting past AFC President Sheikh Salman in the FIFA Presidential Election 2015 in Zurich, Friday, Infantino said: "We will work tirelessly, starting with myself. You will be proud of FIFA. You will be proud of what FIFA will do for football," he was quoted by the AFP as saying.
Infantino is looking for a little break now before he starts working tirelessly for the world football governing body, and also looks at appointing a secretary-general for FIFA. He has, however, already laid down his plans, and India is a part of it.
"In 2020, I want to see big development of football all over the world, in all countries. I want to see some concrete actions done by FIFA and done by each and every national association when it comes to football development," Infantino was quoted by Goal as saying. "I want to see the Caribbean league playing, I want to see grass-roots, academies in Africa.
"I want to see kids playing football in the schools in Oceania. I want to see Asia, China, India developing their football. I want to see football growing all over the world.
"And people looking at FIFA as the organisation that helps each country in the world develop football and helps kids smile because they have a ball and they can play with it," he explained.
He wants India to keep developing the beautiful game. He also wants to see the grass-roots football programmes grow manifold in four years. The AFC may have had their backing for Sheikh Salman in the FIFA Election 2016, but AIFF President Praful Patel is now looking forward for good times ahead with the new FIFA president.
"AIFF looking forward to working with FIFA President Gianni Infantino to make Football a great success in India (sic)," Patel tweeted moments after Infantino won by 115 votes in the second round of the FIFA Presidential Election 2016.