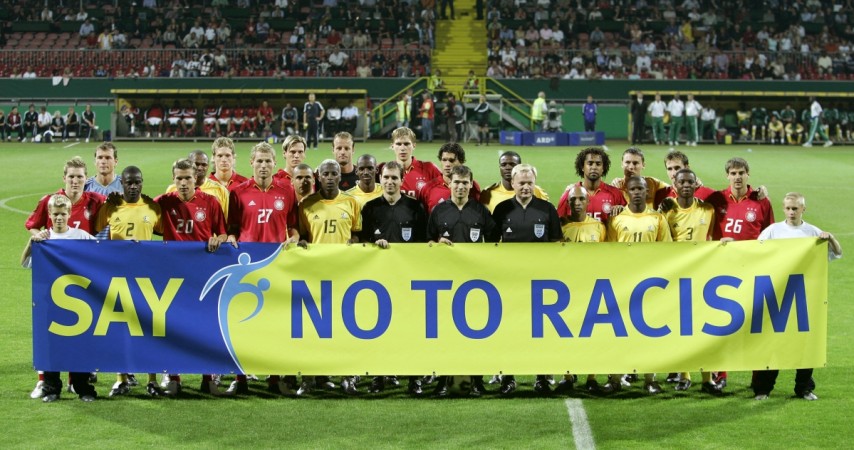 In 2013, the American Republic National Committee faced a lot of flak over a tweet, accompanied by a picture of Rosa Parks, that read: "Today we remember Rosa Parks' bold stand and her role in ending racism." Twitter users hit back with the hashtag #RacismEndedWhen, to contest the claim.
Today, it seems the hashtag is being revived as football's world governing body Fifa is facing a similar backlash after it announced through a letter that the organisation is disbanding its anti-racism task force and declaring that the mission has been accomplished.
Saying that it has "completely fulfilled its temporary mission", Fifa wrote to members of the task force to inform that it "is hereby dissolved and no longer in operation."
"The Fifa Task Force Against Racism and Discrimination was set up with your help on a temporary basis to develop recommendations for Fifa. We are therefore delighted to inform you that all of the task force's recommendations have been implemented and all resulting projects are ongoing," Gerd Dembowski, Fifa's diversity and anti-discrimination manager, said in his letter that informed members of the task force about its dissolution.
To explain its sudden decision, Fifa referred to the progress made by it through the introduction of an anti-discrimination monitoring system for matches, the launch of a "Good Practice Guide," starting a team of footballing legends and a new diversity award and its "Say No to Racism" campaign.
However, naturally, the news was not received well by many who voiced their concerns.
"We never had a single meeting under his [Constant Omari 's] chairmanship. I wrote [to] him, more than once, asking for when a meeting would be held. But I never received a reply from him." Obayiuwana, a member of the task force and a journalist, broadcaster and a qualified lawyer, was quoted saying to the Guardian.
Constant Omari had replaced council chairman Jeffrey Webb after he was arrested in 2015 as part of the American investigation into corruption in football. The council had been formed in 2013 by the then-Fifa President Sepp Blatter.
"The problem of racism in football remains a burning, very serious and topical one, which need continuous attention" said Obayiuwana, while adding that the 2018 World Cup in Russia is another issued that has not been adequately addressed.
Manchester city midfielder Yaya Toure also said that he was very disappointed after hearing the decision.
"I have experienced racism all my life, be that in the streets or in the stadiums, After failing to deal with racism sufficiently for decades – why stop when something is beginning to work? Are Fifa being complacent ahead of a World Cup in Russia? My only hope is that Fifa have thought this through. The letter I received does not fill me with confidence. It will be the fans and players that suffer if Fifa do not get this right," Toure said in a statement, according to the BBC.
The most recent research from the Moscow-based SOVA Center and the Uefa-affiliated FARE Network reported a surge in the number of racist incidents involving Russian fans. It also added that most went unpunished. Researchers logged 92 incidents of discriminatory incidents by Russian fans in and around stadiums in the 2014-15 season, against a total of 83 for the previous two seasons put together.