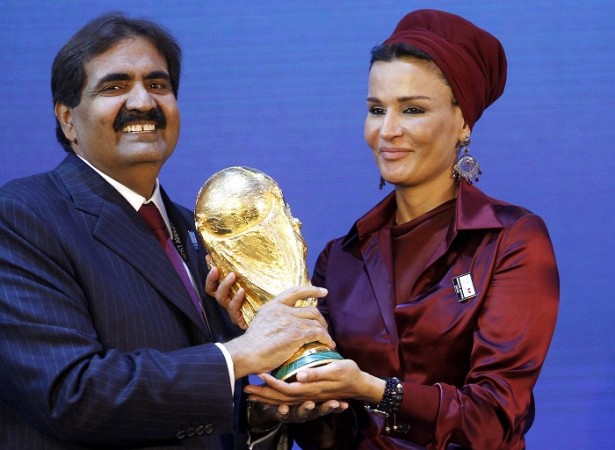 High drama surrounding Qatar World Cup 2022 has come to a boil with the renewed crackdown on the Fifa scandal and the resignation of Sepp Blatter as world football boss. For the unflappable Qataris, who have so far battled myriad controversies over their winning bid, the current turn of events is indeed a menacing one.
The question if they will be able to host the 2022 Cup is closer home, and more vehemently put forth.
Ever since Qatar was named the hosts for the 2022 Football World Cup, the country has come under tremendous scrutiny, with a controversy or a story springing up almost every few months.
After Sepp Blatter announced that he will be resigning from the FIFA president's post, calls for the 2022 World Cup to be stripped off Qatar have increased. Direct calls for the country to be stripped of the Cup have merged from football power centres, including from the English FA, and only time will tell if the most controversial WC award in recent times will be able to hold its ground.
The Middle Eastern country has banked on the support of Blatter to see them through the most difficult patches of this controversial World Cup hosting bid, but with the Swiss set to relinquish control of Fifa, albeit only after several months more, the organisers for the 2022 World Cup will be just that touch more worried, even if, on the outside, they remain the same confident self.
"The recent events at FIFA will not impact on our preparations for the 2022 FIFA World Cup," the organising committee for the WC told the Guardian. "With five stadiums currently under construction, we are ahead of schedule to deliver on our promises."
Much will depend on who replaces Blatter at the top. Reports suggest Blatter will only leave once it is clear the next president will be someone handpicked by him. But if not, and if it is someone who sees the Qatar bid, in particular, as a problem, then there could be trouble. Fifa -- the new Fifa -- though, will have to find a way to avoid legal troubles if they do indeed decide awarding Qatar the World Cup hosting rights for 2022 is a frontier too far.
There is also the small matter of the Garcia report, which was held under wraps by Fifa. The report was sanctioned to look into the allegations of corruption in Fifa, and was completed in September 2014.
Fifa initially refused to make the report public, and then later released a "whitewashed" version, which cleared both Russia, the 2018 World Cup hosts, and Qatar of any wrongdoing.
"I believe it is because of prejudice and racism that we have this bashing campaign against Qatar," the foreign minister, Khaled al-Attiyah, told Reuters.
There might be a touch of that as well, it cannot be entirely denied. But, there are several other problems. Qatar has been accused of human rights violations in the past, rightly or wrongly is another matter, while from a purely footballing point of view, holding the World Cup in a country in the Middle East in the summer poses plenty of problems.
Temperatures soar above 40 during summer, which is set to force Fifa to hold the traditional summer Football World Cup in the winter. Winter is when club football is in full swing, so FIFA will have to find a way to appease the clubs, which will be easier said than done, or as some people believe, near impossible.
The obvious question is, "Is it all worth the trouble?" Will hosting a World Cup in Qatar really change the landscape of football? South Africa are still a pretty poor team on a world scale, and there hasn't been tremendous growth of the sport in that country following the World Cup, a WC which cost them £2.4 billion.
So, is letting Qatar – who, it must be said, have absolutely no financial worries, unlike South Africa, or even Brazil -- host the 2022 World Cup, despite all the problems, the way to go, or is stripping them off as hosts the solution, while giving it to an Australia, who were ironically criticised by the "whitewashed" Garcia report that was made public by FIFA.
The only way Qatar can hold their ground is by fighting back, with the old adage "attack is the best form of defence" coming into play here. After the English FA chairman Dyke made an unnecessary comment following Blatter's decision to quit, Qatar came up with a scathing retort, showing they are ready to fight fire with fire, and far from willing to let go of their "right" to host the World Cup, which is seen as a sense of national pride.
"This is great news for football," Dyke told the BBC after Blatter's announcement that he was quitting. "It should have happened years ago. There has to be a root-and-branch investigation of FIFA. It has all got to be transparent in the future.
"It's a brilliant day for the game," Dyke added on The Guardian. "If I was the Qatari organisers I wouldn't sleep very well. There has been less evidence about corruption involving Russia.
"Qatar was never understandable -- to have a World Cup in the middle of summer in Qatar when even FIFA's health and safety people advised not to do it."
The reply was pretty good: "We welcome the office of the Swiss attorney general conducting its own work into the bidding process for the 2018 and 2022 World Cups," president of Qatar Football Federation, Sheikh Hamad Bin Khalifa Bin Ahmed Al-Thani, said in a statement.
"We would urge Mr Dyke to let the legal process take its course and concentrate on delivering his promise to build an England team capable of winning the 2022 FIFA World Cup in Qatar."
Much depends on what regime springs up at Fifa in a few months' time. If it is Blatter-esque, Qatar should be safe enough; if not, no matter what fight they put on, it just might be one they are bound to lose.