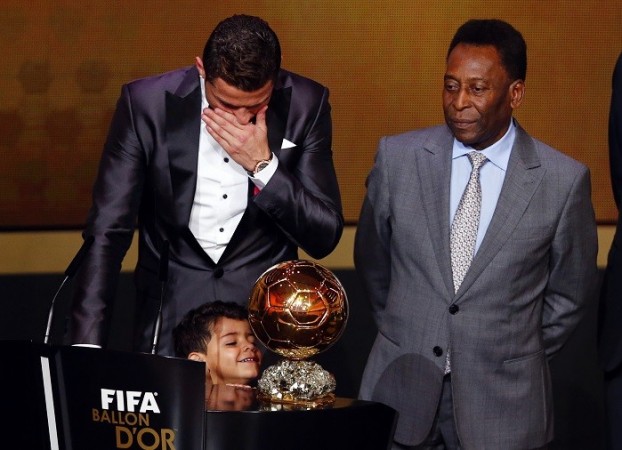 The lump in Cristiano Ronaldo's throat became larger than a golf ball when the realisation spread through his body that he had finally won back the FIFA Ballon d'Or.
Four years Ronaldo had to see his contemporary and great rival Lionel Messi walk away with the golden ball trophy, with each loss only increasing the Portuguese's desire to reclaim that prestigious award.
Enter 2013, with dominance intensified and a sumptuous hat-trick for Portugal just cementing his position as the best player of the year.
"It's an honour to win this award," Ronaldo said. "It was an indescribable moment. I can't explain it in words. I've had unforgettable experiences and a lot of emotions. I want to thank Real Madrid, my teammates in the club and the national team, those people who voted for me and those that love me."
Ronaldo went in as the favourite to walk away with his second Ballon d'Or and the Real Madrid superstar did not leave disappointed after 90 minutes of waiting and watching.
"These tears are genuine," a visibly emotional Ronaldo said after receiving the award from the legendary Pele. "Those who know me know the struggle I've had all year to be at a top level and compete with the best.
"This trophy is also for everyone who supports me. Now I want to keep working and this award will motivate me even more.
Ronaldo was of course in the FIFA/FIFPro World XI, and teammate Sergio Ramos, who was also selected, believes the right man was given the prestigious honour.
"I struggled to hold back the tears. It was a very emotional moment," Ramos was quoted as saying by Real Madrid's official website. "Football is all about feelings and everyone felt freed by Cristiano Ronaldo's tears.
"I want to congratulate him and he clearly deserves this award. Cristiano has beaten all the statistics and records."
Whenever there is positive news for Real Madrid, Florentino Perez is never too far away to give his two-pence and the Real president showered praise on his biggest asset Ronaldo, who became the sixth Real player to win the Ballon d'Or, etching his name in the famed list along with Alfredo Di Stefano, Kopa, Luis Figo, the Brazilian Ronaldo and Fabio Cannavaro.
"Justice has been done because he's the best player in the world," Perez said. "He's an example for everybody. We Real Madrid fans are very happy and it's a special day for us all. When the best player is chosen once a year, it's an honour to have him in our team.
"I don't want to exaggerate, but this is not just about the Ballon d'Or but also about recognition for a leader in football who always want to achieve more and who represents the values that we Real Madrid fans always defend and that is very exciting."
Ronaldo won 27.99 percent of the vote, with Messi garnering 24.72 percent and Franck Ribery coming a close third having received 23.36 percent of the votes.